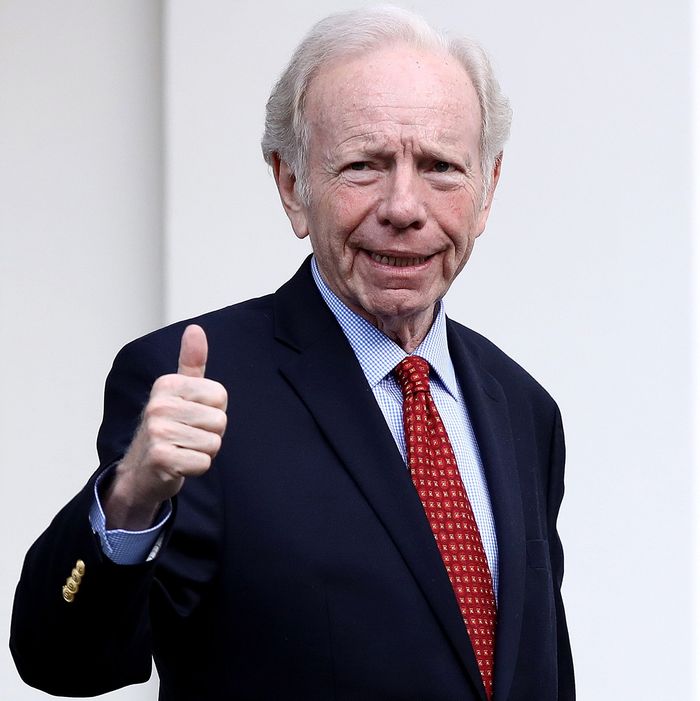 Joseph Lieberman.
Photo: Win McNamee/Getty Images
I don't know what to make of the strange, bitter argument going on between U.S. Representative Joe Crowley of New York and his Democratic-primary vanquisher, Alexandria Ocasio-Cortez. He says he's endorsed her; she says he's sneakily running against her on the minor-party Working Families Party ballot line (he won its primary the same day he lost the Democratic primary to Ocasio-Cortez). He blames her campaign for logistical screwups that have prevented a formal concession conference call, while she blames his. A lot of this is probably just the collateral emotion surrounding the Democratic Socialist Ocasio-Cortez's shocking upset defeat of the fourth-ranking House Democrat, a man many had expected to become Speaker in a future Democratic House. But there's also a factual dispute concerning Crowley's options; he claims New York's convoluted election laws prevent him from getting off the general-election ballot, which the WFP has asked him to do.
But whether Crowley is doing what he can to get out of Ocasio-Cortez's way or is quietly working toward a November upset as big as hers last month, this is a development I am sure he does not welcome:
Former Sen. Joe Lieberman (I-Conn.) is urging voters in the general election to vote for Rep. Joseph Crowley (D-N.Y.) instead of Democratic nominee Alexandria Ocasio-Cortez, who upset him in the party primary.




"Alexandria Ocasio-Cortez's surprise primary victory over Rep. Joe Crowley seems likely to hurt Congress, America and the Democratic Party. It doesn't have to," Lieberman wrote in an op-ed published Tuesday in The Wall Street Journal.
That's right: In The Wall Street Journal, that well-known forum for civil intra-Democratic debate, Lieberman, whose links to the Democratic Party have been attenuated since he was its Democratic nominee in 2000 (he supported McCain over Obama in 2008 and was neutral in 2012), is urging Crowley to leave his party in order to save it. And he cites, of course, his 2006 reelection victory as an independent after he lost the Democratic primary to Ned Lamont.
Now Lieberman's Connecticut is a little different from the 14th Congressional District of New York, with its 81 percent minority population. The former Democratic veep candidate beat Lamont in no small part by becoming the de facto candidate of the state's Republican Party. There aren't a lot of Republicans in Crowley's district (Clinton beat Trump there by a 77-to-20 margin), and the national Democratic Party is not likely to embrace Crowley as its savior if he were able somehow to defeat the winner of its own primary.
Maybe Lieberman's very public embrace of a third-party Crowley bid will force the congressman to make some sort of Sherman statement and resolve any doubts about his plans, whether or not his name remains on the ballot. But you have to wonder whose idea it was for Lieberman to make his very strange intervention into New York City politics.