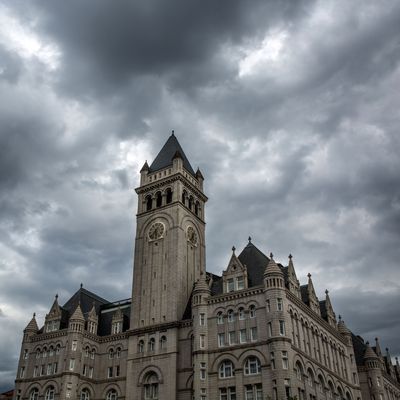 Trump's downtown D.C. hotel.
Photo: George Rose/Getty Images
A federal judge Wednesday said a lawsuit against President Trump that accuses him of violating the Constitution's foreign emoluments clauses can continue, despite attempts by his lawyers to have it thrown out of court.
The suit focuses on Trump's interest in the Trump International Hotel in Washington, D.C., which has seen a flood of activity from foreign governments since his inauguration. The attorneys general of Maryland and the District of Columbia contend that payments from these governments violates a Constitutional clause that forbids federal officials from accepting payments and gifts from foreign governments.
In his ruling, U.S. District Judge Peter Messitte wrote that public records make it clear that foreign governments have patronized the hotel "precisely because of the president's association with it." Given Trump's refusal to remove himself from the Trump Organization, payments from those companies could plausibly be considered emoluments, Messitte wrote.
The Justice Department and lawyers for the Trump Organization have argued that the reading of the clause put forward by the plaintiffs is inaccurate. The Founding Fathers meant it to prevent officials from taking bribes, they say. The Justice Department has pledged to continue fighting the case and is expected to quickly appeal to a higher court.
Meanwhile, District of Columbia Attorney General Karl A. Racine celebrated the ruling in a statement: "Today's historic ruling is a substantial step forward to ensure President Trump stops violating our nation's original anti-corruption laws. The Constitution is clear: the president can't accept money or other benefits from foreign or domestic governments."