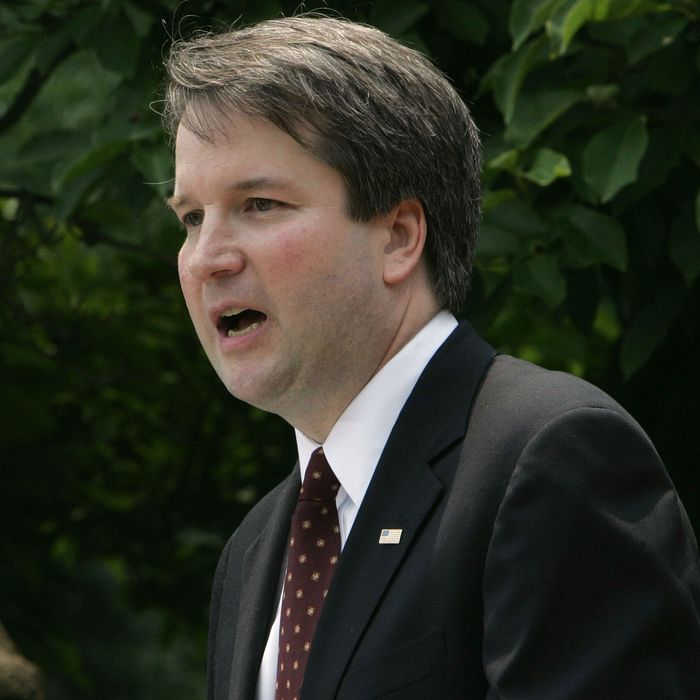 Is Kavanaugh too close to the "low-energy" Bush family, or insufficiently rigid about abortion policy?
Photo: Dennis Brack/Bloomberg via Getty Images
As preparations for the president's July 9 announcement of a Supreme Court nominee to replace Anthony Kennedy reach the critical point of decision, the front-runner among a handful of finalists appears to be D.C. Court of Appeals judge Brett Kavanaugh, a political and judicial veteran with broad-based support in conservative legal circles. But at the next-to-last minute, his candidacy has aroused a backlash from significant if scattered hard-core conservative voices who claim he is unreliably ideological, particularly on the crucial topics of abortion rights and Obamacare. The Daily Caller reported (and perhaps exaggerated) the negative reaction to Kavanaugh earlier this week:
Kavanaugh drew the ire of multiple influential conservative movement staffers and judicial activist who spoke with The Daily Caller, some on background due to their positions within the White House and decision-making judicial circles. Insiders say that the base criticism of Kavanaugh are beginning to reach Trump. "The White House Counsel's Office is reeling today on Kavanaugh," says one GOP judicial insider with direct knowledge of the selection process. "Kavanaugh is crashing and burning today. I cannot figure out how this happened in one day."




"The conservative grassroots I speak with are terrified that this will be another Harriet Miers," says Terry Schilling, executive director, American Principles Project referencing the ill-fated George W. Bush selection for SCOTUS, citing Bush family nepotism and lack of enthusiasm with the base as Kavanaugh weaknesses.
The Miers reference is telling, since those trying to derail Kavanaugh hope to emulate the successful 2005 conservative campaign to force her withdrawal by Bush, leading to the deeply satisfying-to-conservatives substitution of Samuel Alito. And Kavanaugh does share with Miers strong personal ties to W., having served Bush's Florida recount team, and then on his White House staff for over five years (the last two pending his confirmation for the D.C. Circuit after Bush nominated him in 2003). During that tenure he married Bush's personal secretary, Ashley Estes, in a ceremony attended by the president and First Lady.
Otherwise the comparisons to Miers are more than a bit odd, since her biggest problem was the complete lack of any judicial paper trail (she had never served on the bench at any level) to reassure conservatives of her reliability on key constitutional issues. Kavanaugh's record as the key conservative member of the most influential circuit court is very long.
But it's there that some conservative activists have found troubling indicators, as the Washington Examiner explains:
"There are concerns in the pro-life community that his decisions in some cases mean he's not as solidly pro-life as we would like him to be," a source close to the White House told the Washington Examiner.
That complaint appears to stem almost entirely from his position in the 2017 Garza v. Hargan case involving an undocumented woman in federal custody who was seeking an abortion. Kavanaugh dissented from an order by the full D.C. Circuit that the Trump administration let the woman terminate her pregnancy — but unlike another conservative judge, did not directly challenge her right to have an abortion under certain circumstances.
Others have picked over Kavanaugh's very complicated dissent in the 2011 case that led to the landmark SCOTUS decision validating Obamacare. Even though Kavanaugh made it abundantly clear that he was horrified by the individual mandate at issue in the case, he rejected a challenge to it as untimely, while providing some foundation for the rationalization of the mandate under Congress's tax powers, which Chief Justice John Roberts seized upon in his majority opinion upholding the mandate.
As one might expect, partisans for other SCOTUS candidates are probably doing their bit to feed misgivings about Kavanaugh. There is a particularly vocal faction of cultural conservatives eager about Amy Coney Barrett, the Seventh Circuit judge and former law professor with seven children, membership in an ecumenical organization of "charismatic" Christians, and a recent history of being criticized (in her Court of Appeal confirmation hearings) by Democratic senators for her attachment to Catholic "dogma." And lurking in the background whenever conservative "concerns" are expressed about SCOTUS nominees, particularly from the anti-abortion lobby, is the long history of justices appointed by Republican presidents who turned out to be supporters of abortion rights (e.g., Anthony Kennedy, Sandra Day O'Connor, David Souter, John Paul Stevens, Lewis Powell, Warren Burger, William Brennan, and the author of Roe v. Wade, Harry Blackmun).
But the whole point of the very public SCOTUS vetting process Trump shrewdly inaugurated during his presidential campaign is to preclude that possibility almost entirely, and while some right-to-life ultras may fear Kavanaugh would approach the reversal of Roe with caution, none of the 25 members of Trump's official SCOTUS list is going to become another Anthony Kennedy and defend abortion rights.
Kavanaugh, moreover, has plenty of conservative firepower in his own corner. He reportedly made the Trump SCOTUS list in the first place thanks to the sponsorship of its chief architect, the Federalist Society's Leonard Leo. National Review's Ed Whelan, a prominent conservative legal theorist, has devoted a series of columns to rebutting attacks on Kavanaugh's record from the right. A criticism of the judge at the Federalist was immediately countered with a vigorous defense of him at the same hyperconservative site. Ann Coulter, nobody's RINO, has endorsed Kavanaugh. And none of the main sources of the kind of conservative MAGA-rooted dissent that Trump usually listens to, such as Breitbart News, has joined any anti-Kavanaugh effort.
Given the very narrow margin Republicans have in the Senate (if Democrats unite against Trump's nominee and John McCain remains away from Washington, the GOP needs every single senator) perhaps the most credible threat to the former Ken Starr assistant comes from the ever-cranky Rand Paul, as the Associated Press reports:
Paul has told colleagues that he wouldn't vote in favor of Kavanaugh if the judge is nominated, citing Kavanaugh's role during the Bush administration on cases involving executive privilege and the disclosure of documents to Congress.
But then Paul has a long history of threatening to break with his party on key votes, and an equally long history of backing off, particularly if Trump asks him to get in line. It appears POTUS has already put in a call to the Kentuckian.
So Kavanaugh remains the front-runner. The youthful-appearing 53-year-old can only hope that Trump not only brushes off attacks from the right, but adjudges him as looking the part.