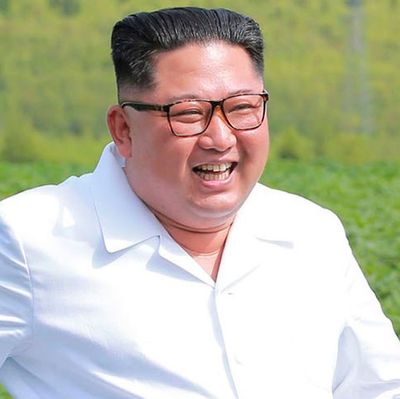 Potato inspector.
Photo: Uncredited/AP/REX/Shutterstock
When Secretary of State Mike Pompeo visited Pyongyang last weekend, he was supposed to have a one-on-one meeting with Kim Jong-un. But the North Korean leader never showed up during Pompeo's three-day visit. His top deputy, who took the meeting in Kim's absence, said his boss was out of town without revealing what was more important than a sit-down with the top U.S. diplomat.
Turns out, potatoes were more important. On Tuesday, North Korean state media published several reports about Kim's visit to a rural area near the Chinese border where he provided "field guidance" to potato farmers. The reports go into great detail about Kim's visit to Samjiyon county, which included a stop at a potato farm and a factory where processed potato products are produced. Among other things, Kim told the farmers how important good-tasting potatoes are and counted the big trucks on the farm. "Looking round farm machines and tractors of the workteam, he acquainted himself with how many tractors it has and how it operates them," KCNA reports.
Meanwhile, back in Pyongyang, the meetings between Pompeo and representatives of Kim's governments were a disaster. Despite the secretary's attempt to put a positive spin on the visit, as soon as he was out of the country, North Korea criticized his "unilateral and gangster-like" demands and called the talks "regrettable."
Kim, meanwhile, appears to have had a great time inspecting spuds.