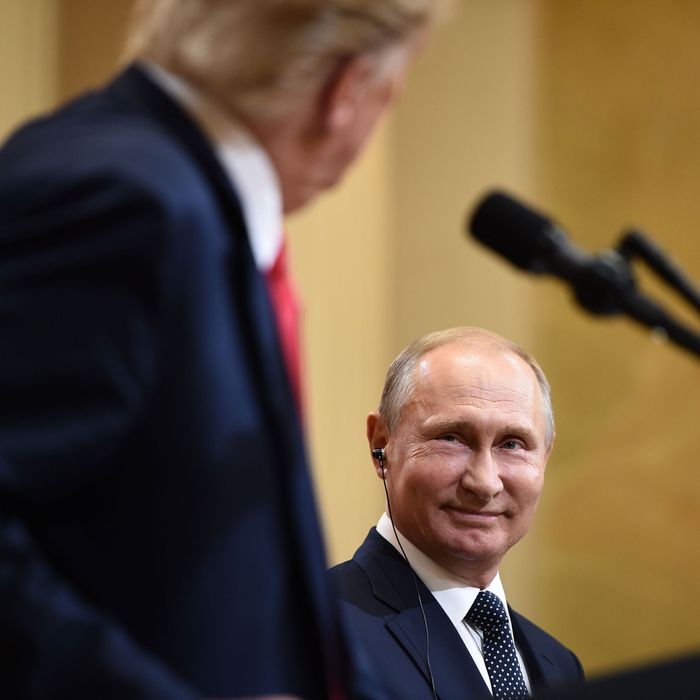 Perhaps Vlad knows better than Donald about what's good for Donald's political future.
Photo: Brendan Smialowski/AFP/Getty Images
The theory that Vladimir Putin has a tender, almost fatherly interest in the political well-being of his friend Donald Trump received fresh validation today when the Kremlin deflected Trump's strange public invitation for a second summit meeting in Washington this fall. Reuters has the report:
The Kremlin was reticent on Tuesday about whether it would accept an invitation from U.S. President Donald Trump to hold a summit with Vladimir Putin in Washington later this year, saying only that the two men had other chances to meet as well…




Kremlin aide Yuri Ushakov said that though Washington and Moscow agreed there was a need for another Putin-Trump meeting, Russia had not yet begun any practical preparations for a new meeting.




"There are other options (to meet) which our leaders can look at," Ushakov told reporters, citing a meeting of G20 leaders in Argentina which starts at the end of November.
It's possible the Russians feel so fortunate about their big propaganda win at the Helsinki summit that they don't want to jinx themselves by returning to that well so soon. It's even possible they fear that Trump will try to make up for his toadying behavior at the first event by going all Barbarossa on their leader and ruining their budding alliance with the U.S.
But the most logical explanation is that like many Americans, they figure a quick second summit with Putin on U.S. soil would be the wrong big foreign-policy move for Trump, particularly if it happens right before the midterm elections. Republican voters are clearly coming around to the idea of Russians being the new English — our most reliable friends — enjoying a "special relationship" founded on conservative Christianity and hostility to those refugee-hugging liberal Euroweenies in the increasingly irrelevant NATO. But it's not necessarily the note that will mobilize them to flood the polling places in November. Maybe in 2020, eh?
We'll see if the White House takes the hint and goes to a plan B.