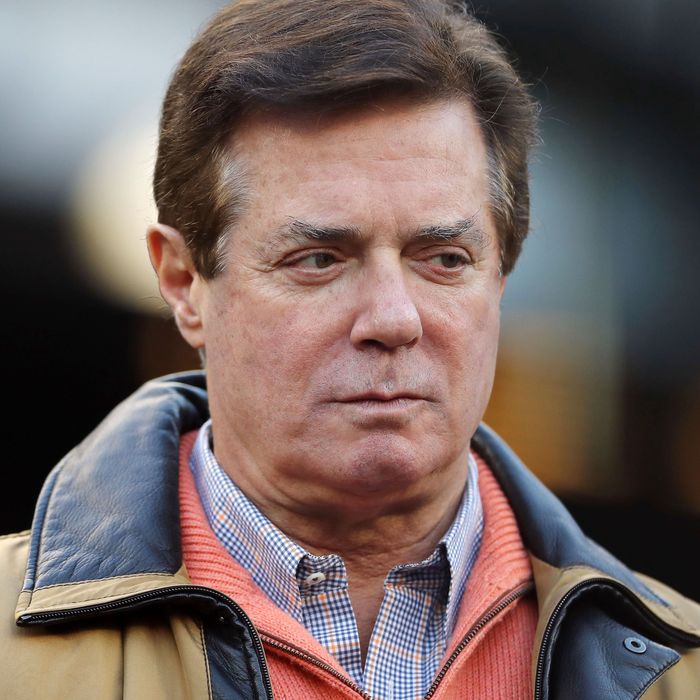 Very Important Prisoner.
Photo: Elsa/Getty Images
Paul Manafort thinks he's being treated like a "VIP" in jail, Special Counsel Robert Mueller's office said in a court filing Wednesday that argued his July 15 trial should not be delayed.
Donald Trump's former campaign chairman had requested that his trial for bank fraud be pushed back to the fall because he's not able to adequately prepare from jail in Warsaw, Virginia. Mueller's office is calling shenanigans.
The prosecutors' filing says Manafort has everything he needs to prepare for the trial, including his own phone and computer. He is allowed to write emails and make an unlimited number of 15-minute calls to his lawyers. He's even got his own "private, self-contained living unit, which is larger than other inmates' units," the filing says. The unit includes a work space and a private shower. Manafort doesn't even have to wear a prison jumpsuit.
Last week, Manafort's lawyers complained that he has to spend 23 hours in solitary confinement in the unit.
Prosecutors say Manafort's nearly unlimited access to his lawyers means he should have no problem preparing for the trial. In the last three weeks alone, he's had more than 100 phone calls with his lawyers and more than 200 with other people. And the feds have been listening. That's how they know about his "VIP" remark and it's how they know that the claim he can't prepare for the trial is nonsense. As he told someone in another monitored phone call: I have "all my files like I would at home."