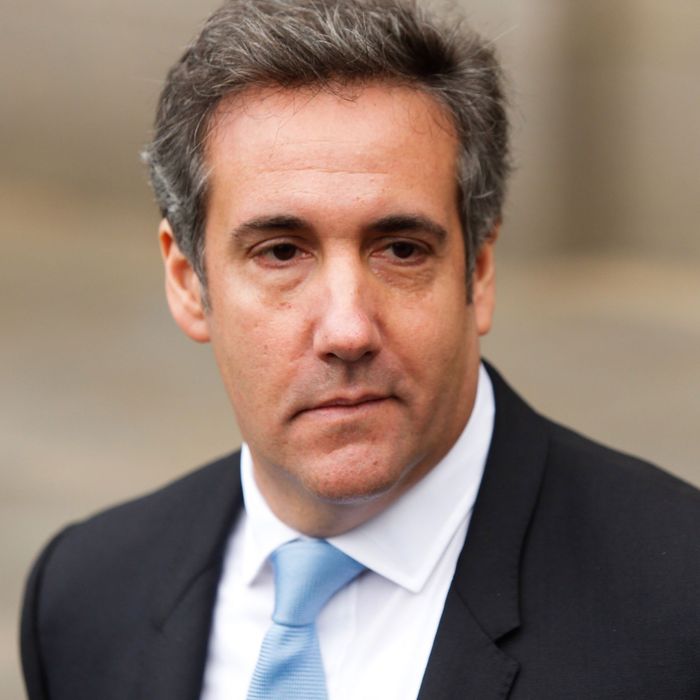 Michael Cohen.
Photo: Eduardo Munoz Alvarez/AFP/Getty Images
When the FBI raided Michael Cohen's home and office three months ago, President Trump freaked out like he has never freaked out before. And now the worst of his fears appears to have been realized. In a new interview with George Stephanopoulos, Cohen all but states that he will cooperate with the FBI rather than protect his longtime boss. "My wife, my daughter, and my son, and this country have my first loyalty," says Cohen. More significantly, ABC reports that Cohen is ending his joint defense agreement with Trump, which is what Michael Flynn did before flipping.
What would it mean for Trump if Cohen turns on him? The short answer is, it would be extremely bad. A somewhat longer list of reasons why:
Cohen apparently made illegal payments on Trump's behalf. Cohen made payments to Stormy Daniels to keep her quiet about their affair. Daniels's lawyer, Michael Avenatti, has produced documents proving that she sent her payment to Cohen at his Trump Tower location, and that Cohen communicated through his official Trump Organization email. That means Cohen was acting on Trump's behalf. And if the payment was intended to help Trump's campaign, it constitutes an illegal campaign donation.
Asked if Trump directed the payment, Cohen tells ABC, "I want to answer. One day I will answer," Cohen said. "But for now, I can't comment further on advice of my counsel."
Let's mark that down as a tentative "yes."
What other crimes may Cohen have committed on Trump's behalf in the Stormy Daniels case? The Washington Post has reported that, in addition to campaign finance violations, Cohen is being investigated for bank fraud and wire fraud. Daniels has also reported being approached and threatened by a strange man — not Cohen, but quite possibly sent by Cohen, who styles himself as quite the goon.
Cohen kept a lot of evidence. Cohen "often recorded telephone conversations both before and during the 2016 presidential campaign," reported CNN in April, and these included "discussions about the campaign and interactions with the media."
Cohen and Trump may have assumed that they could communicate freely because, as Trump's "lawyer," their communication would enjoy attorney-client privilege. But Cohen's true role was as a "fixer," not a lawyer, and only legal advice qualifies as privileged. Of the more than 300,000 pieces of communication seized by prosecutors, a mere 161 were designated "privileged" by a judge overseeing the case. Prosecutors will have access to a lot of hard evidence.
Cohen can't be pardoned. Trump has repeatedly flaunted his pardon power in an obvious effort to persuade witnesses to stay loyal. The trouble is that Trump can only issue a pardon for a federal crime. Cohen seems to have committed many state-level crimes, and New York's state prosecutor is cooperating with Robert Mueller.
The precise contours of Cohen's state-level criminal history remain to be defined. But reporters at ProPublica and at the New York Times have combed through his business history. His first job out of law school was working for a lawyer who was "charged with bribing insurance adjusters to inflate damage estimates and expedite claims." His father-in-law, who worked with Cohen in the taxi business, pleaded guilty to tax fraud. His business address was the known headquarters of a Russian-American mobster. Cohen made "scores of car insurance lawsuits, often on behalf of plaintiffs who claimed to have been injured in auto collisions" at a time when "a wave of staged auto accidents, involving immigrants from the former Soviet Union who claimed to have been hurt, had led prosecutors to open a massive investigation." And so on.
If prosecutors wanted leverage on Cohen that Trump couldn't touch, they could surely find it.
Cohen dealt with Russia during the campaign. The Steele dossier famously identified Cohen as a point of contact for Russian intelligence in the fall of 2016. Cohen denied the specific meeting, which allegedly took place in Prague. However, Mueller has also reportedly come to doubt Cohen's alibi.
Cohen also dealt with Russia in his attempts to build a Trump Tower in Moscow and allegedly hand-delivered a pro-Russian peace plan to Michael Flynn. In 2016, his longtime friend, and convicted organized criminal, Felix Sater emailed Cohen, "Our boy can become president of the USA and we can engineer it. I will get all of Putins team to buy in on this, I will manage this process."
Cohen may have collected bribes after Trump's election. Russian oligarch Viktor Vekselberg met with Cohen in Trump Tower 11 days before the inauguration, and the two discussed Russian-American relations. After the inauguration, the firm Columbus Nova awarded Cohen a $1 million "consulting contract."
Columbus Nova is an American firm, but reporting has indicated it is controlled by Vekselberg. The Guardian found that Vekselberg secured loans from a Russian state-controlled entity using Columbus Nova. NPR also found that the FBI has warned that Vekselberg is "a means for the Russian government to access our nation's sensitive or classified research, development facilities and dual-use technologies with military and commercial applications."
After Trump won, Cohen suddenly began cashing in on his access to the president-elect. It is possible Trump had nothing to do with this. However, that would be a very un-Trump-like decision. Far more likely, Cohen kicked up some or all of the proceeds.
Now there is a lot of criminal exposure for both Trump and Cohen, many points of access between the two men, and little reason left for Cohen to protect his boss.