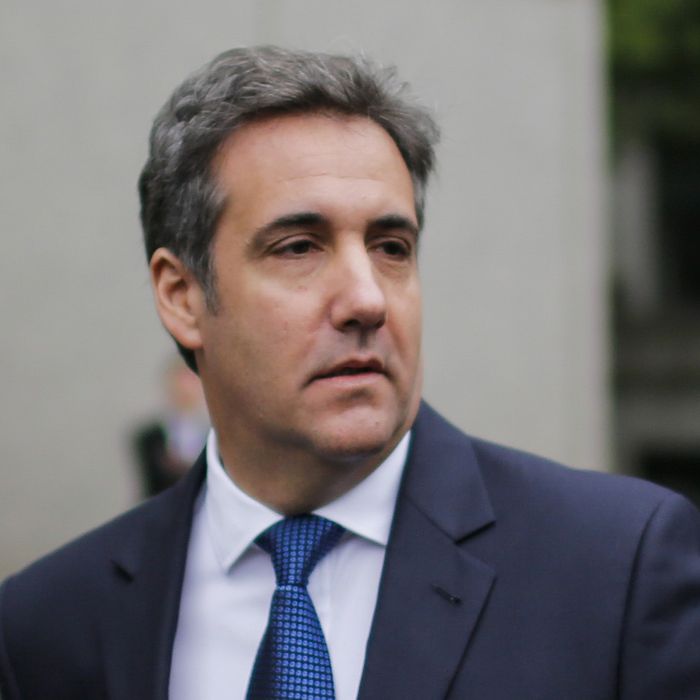 Cohen's loyalty to Trump seems to have been steadily fading ever since federal agents raided his office and apartment.
Photo: Eduardo Munoz Alvarez/Getty Images
President Trump's former lawyer and personal fixer Michael Cohen has been privately questioning Trump's fitness for office, according to a new Axios report. Cohen's critical comments about Trump apparently started after the president's disastrous press conference with Russian president Vladimir Putin on Monday in Helsinki. Notes Axios' Jonathan Swan:
"It's one thing for him [Cohen] to be concerned about his suitability to be president," a knowledgeable source told me. "It's quite another thing to be concerned about his [Trump's] loyalty to his country."
The alleged comments provide more evidence that the legally imperiled Cohen is turning against the president, particularly now that he has reportedly signaled a willingness to cooperate with federal prosecutors.
On Friday, news broke that Cohen had recorded private conversations with Trump and that the FBI was now in possession of them after raiding Cohen's office and hotel room in April as part of a criminal investigation into Cohen's business practices. On one of the recordings, Cohen and Trump reportedly discuss payments to a former Playboy model who has said she once had an affair with the president.
On Saturday, Trump speculated that Cohen may have broken the law by making the recordings, though that is probably incorrect since New York, where the tapes were presumably recorded, is a state where recording conversations is legal so long as at least one of the participants consents to the recording. Trump also repeated his false claim that federal agents broke into Cohen's office during the raid, when in fact they conducted a lawful search.
What else is on the Cohen tapes, as well as what else Cohen himself may eventually be willing to say about the president and their work together, remains to be seen.