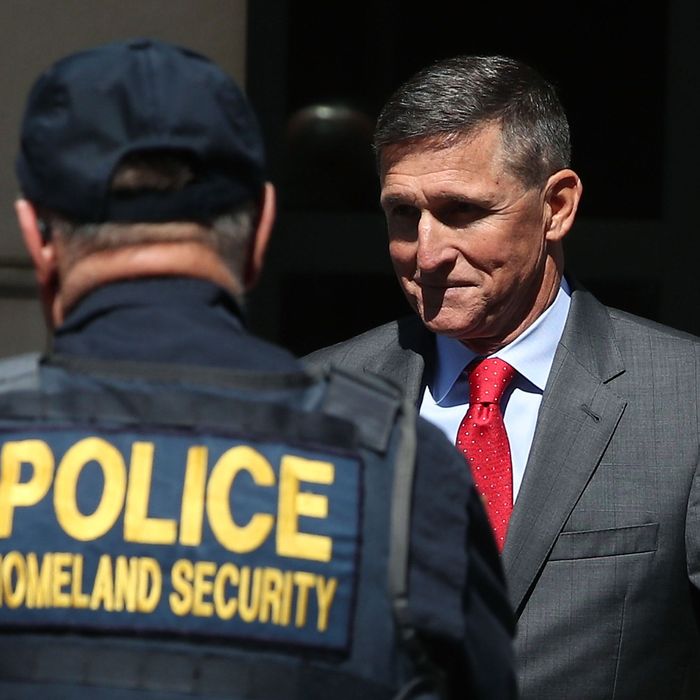 Back in, like Flynn.
Photo: Mark Wilson/Getty Images
A few short months ago, Michael Flynn was down for the count.
The lifelong intelligence official had blown the opportunity of a lifetime: After securing the role of national security adviser in the Trump White House, Flynn managed to get himself fired just 23 days into the job. Not long after that he was convicted of lying to federal investigators — and forced to confess that he had been secretly operating as a paid agent of Turkey's Islamist government while serving as a top foreign policy adviser to the Republican presidential nominee.
As if that weren't enough, his son had disgraced himself by spreading an unhinged conspiracy theory involving child molestation, the Democratic Party, and a popular D.C. pizzeria.
When Flynn pleaded guilty to a federal crime last December, most people assumed that his life as a hot-shot D.C. influence peddler was over.
But Michael Flynn spent 33 years in the U.S. Army — and American troops never surrender. And with a little hard work, determination, privileged knowledge of classified national security information, and deep ties to the Turkish government, Flynn managed to lift himself up by the bootstraps — and prove, once and for all, that there are second acts in American lives:
Former national security adviser Mike Flynn has a new job: He has joined a global lobbying and investment advisory firm.

As he awaits sentencing for lying to federal investigators, he is going into business with Washington lobbyist Nick Muzin and his New York partner Joey Allaham with a new firm called Stonington Global LLC, they told The Wall Street Journal.




… Stonington Global will provide consulting and lobbying services for U.S. and foreign clients, Messrs. Muzin and Allaham said in a statement. The firm also will "help private investors and sovereign-wealth funds develop and execute investment strategies."




… Neither man knew Mr. Flynn, they said, but Mr. Allaham approached him about joining the firm because "his experience speaks for itself."
To make matters even more uplifting, the firm has also decided to give Michael "Pizzagate" Flynn Jr. a second chance to put his indisputable talents to good use.
In a statement to the Journal, Flynn senior said that in his new position, he would "work every day" to "enhance the goals of freedom and liberty" — by helping well-heeled individuals and foreign governments buy influence over American policy-making.
It all just goes to show that they don't call America the "land of opportunity" for nothing: In what other country could a humble, aging, criminally corrupt former high-ranking national security official and unregistered lobbyist for foreign governments work his way up to becoming a registered lobbyist at a firm whose co-founder allegedly helped the Qatari government hack Elliott Broidy's emails?
When one reflects on how the United States gives its people every opportunity to exercise their talents, it is difficult to fathom why anyone would refuse to stand for the national anthem.