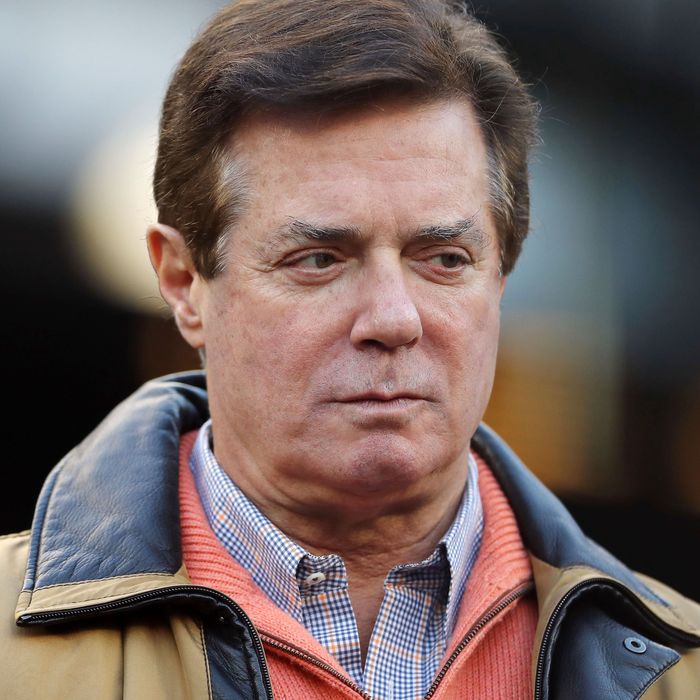 Even more bad news for Manafort.
Photo: Elsa/Getty Images
The latest court documents filed by Special Counsel Robert Mueller's team suggest we're in for some surprises in the trial of Paul Manafort — though Trump's former campaign chairman has been exposing plenty of sensitive information by gabbing on communication devices monitored by prosecutors.
On Tuesday Mueller asked a federal judge to grant immunity to five potential witnesses against Manafort, who have yet to be publicly identified in connection with the case. He indicated that the witnesses would invoke their Fifth Amendment rights unless they were granted immunity, and requested that the immunity motions be sealed.
"Disclosing the motions would reveal those individuals' involvement in the investigation and the trial, thereby creating the risk of their undue harassment," prosecutors said. "Such concern potentially would be heightened by the additional revelation that they have invoked their privilege against self-incrimination and may be granted immunity from the use against them of any compelled testimony."
All five witnesses might not be called, but those who do testify will be publicly identified during the trial, which is scheduled to start next week in Virginia. That case involves tax and bank-fraud charges; Manafort is set to be tried in Washington on charges of money laundering and failing to register as a foreign agent in September.
Manafort was unsuccessful in his effort to move the first trial from Alexandria, Virginia, to Roanoke, Virginia, which is well outside of the Beltway. On Tuesday U.S. District Court Judge T.S. Ellis III rejected the claim by Manafort's lawyers that he could not get a fair trial due to the intense interest in his case in the Washington, D.C. area. Ellis said national media coverage of his case meant publicity "will be the same in Alexandria as it would be in Roanoke or Kansas City or Dallas."
Ellis also rejected Manafort's claim that there should be a change of venue because the region favored Hillary Clinton in the 2016 election.
"It would be inappropriate for courts to move trials around the country in cases of this sort until a district could be found where a defendant's political views were shared by at least as many persons in the district as those with contrary views. The Constitution does not require a search for this type of district; instead, the Constitution requires only that a defendant be tried by fair and impartial jurors," the judge said.
Ellis noted that the area has a population of 3 million, and "jurors' political leanings are not, by themselves, evidence that those jurors cannot fairly and impartially consider the evidence presented and apply the law as instructed by the Court."
Jury selection is set to start on July 25, but Manfort's team has requested a delay, which prosecutors are fighting. In the meantime, Manafort is getting the VIP treatment in jail, where he landed after allegedly attempting to tamper with witnesses while on house arrest.