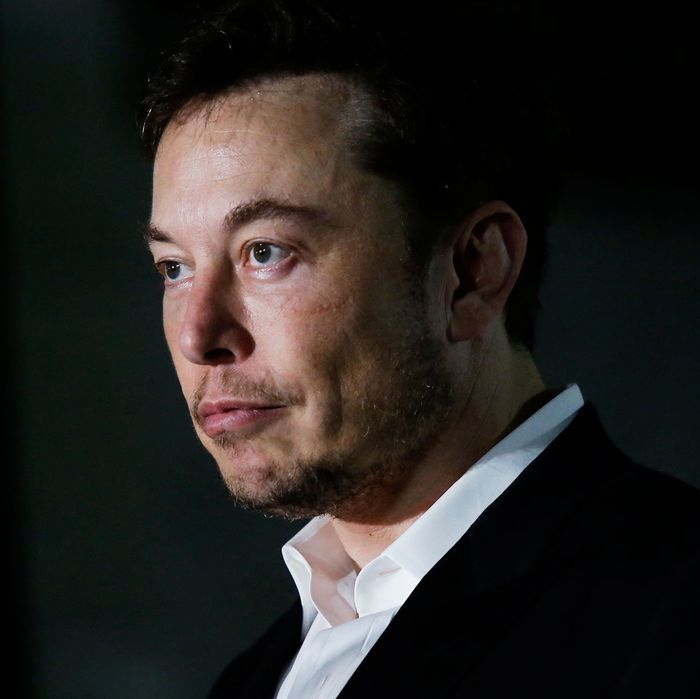 Elon Musk.
Photo: Joshua Lott/Getty Images
Since 2017, Elon Musk has given $88,900 to Republicans, including a significant donation, $39,000, to Protect the House, a PAC dedicated to keeping Republican control of, well, the House. His total donations to Democrats? $13,300. Public discovery of those figures hasn't been great for Musk, who has also been busy doing things like calling one of the divers who rescued the Thai soccer team a "pedo" because the diver called Musk's mini-submarine — a piece of tech built from Tesla rockets that wasn't used in the rescue — a "PR" stunt and told him to stick said sub "where it hurts."
On Twitter, Musk called himself a "registered independent & politically moderate." He also, according to a report from Bloomberg, called up the head of the Sierra Club for help proving this point. Musk contacted Michael Brune, the environmental group's executive director, and asked that Brune publicize Musk's previously anonymous $6 million donations to the organization. Brune, Bloomberg also reports, tweeted via his personal account and the Sierra Club account. Which did not thrill his colleagues.
From Bloomberg:
"I appreciate the concerns that I've seen online and in email that the tweets may be at odds with our support for workers' rights and defeating the GOP agenda across the country," Brune wrote in the email to his staff on Tuesday. "I don't agree, but I see the risk and understand the concerns. Musk has made unhelpful anti-union statements and Tesla's labor practices are also cause for concern, so I take your comments seriously."
Just spitballing here, but it's almost like you can donate millions of dollars to a good cause … and still not be a good person! Just a thought.
Update, July 20, 2018, at 10:51 a.m.: A spokesperson for Elon Musk provided the following statement to Select All. "Elon has spent most of his career fighting to prevent climate change and protect the environment. Almost every major carmaker in the world is accelerating development of electric cars primarily because of what Elon and his team have achieved with Tesla. He has also made significant philanthropic contributions to organizations seeking to end the use of fossil fuels, including $6m to the Sierra Club. Elon is committed to backing the Sierra Club in its fight for clean energy and recently asked them to make his support public to reaffirm the sincerity of his commitment."