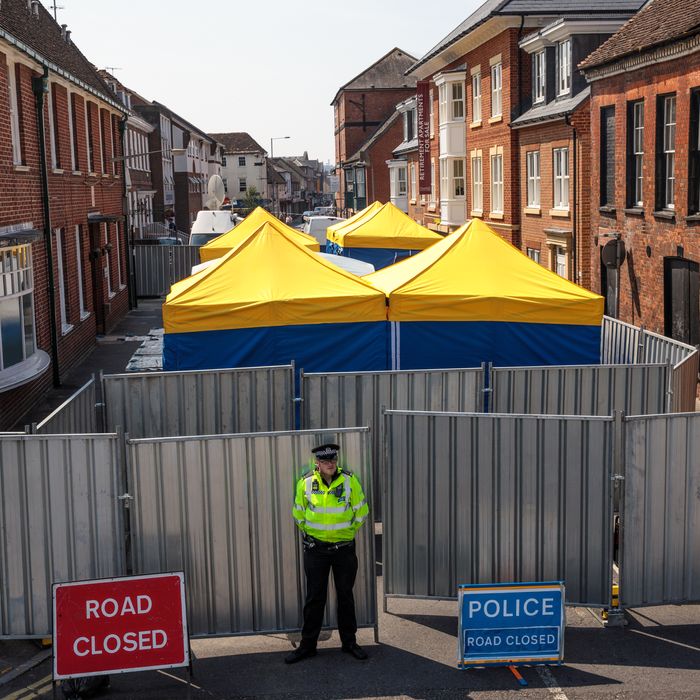 Police in Salisbury, England, cordoned off areas Sturgess and Rowley visited in the hours before they fell ill.
Photo: Jack Taylor/Getty Images
A 44-year-old British woman died on Sunday afternoon after being exposed to the nerve agent Novichok in Amesbury, England. The same substance was used to poison former Russian spy Sergei Skripal and his daughter Yulia in an attack that occurred a few miles away earlier this year.
Dawn Sturgess and her boyfriend Charlie Rowley, 45, fell ill on July 1 and were found unresponsive in their home. Sturgess died in the hospital, and Rowley remains in critical condition. Police say it's likely that they were accidentally exposed to residue from the obscure Soviet-developed nerve agent used on the Skripals in March.
Britain blamed Russia for the attack, but Moscow denied involvement. The story mostly fell out of the headlines after the Skripals recovered and several sites around Salisbury were decontaminated. Sturgess and Rowley had both struggled with addiction, and doctors initially thought they'd overdosed before noticing symptoms similar to those suffered by the Skripals, like foaming at the mouth, pinpoint pupils, and hallucinations.
British authorities have opened a murder investigation and retraced the path Sturgess and Rowley took before they fell ill, searching for an object they may have handled that exposed them to the Novichok.
U.K. health officials said the risk to the public "remains low," but Professor Paul Cosford said, "As a precaution we still advise the public not to pick up any strange items such as needles, syringes or unusual containers."
The U.S., Canada, and several European nations joined Britain in expelling Russian diplomats over the March attack. Russia has again denied any involvement in the poisonings, and has suggested that the British government concocted the story to distract from Russia's success as it hosts the World Cup soccer tournament.
Assistant commissioner Neil Basu, head of U.K. counterterrorism policing, called Sturgess's death "shocking and tragic news," noting that she leaves behind three children.
"This terrible news has only served to strengthen our resolve to identify and bring to justice the person or persons responsible for what I can only describe as an outrageous, reckless and barbaric act," he said.