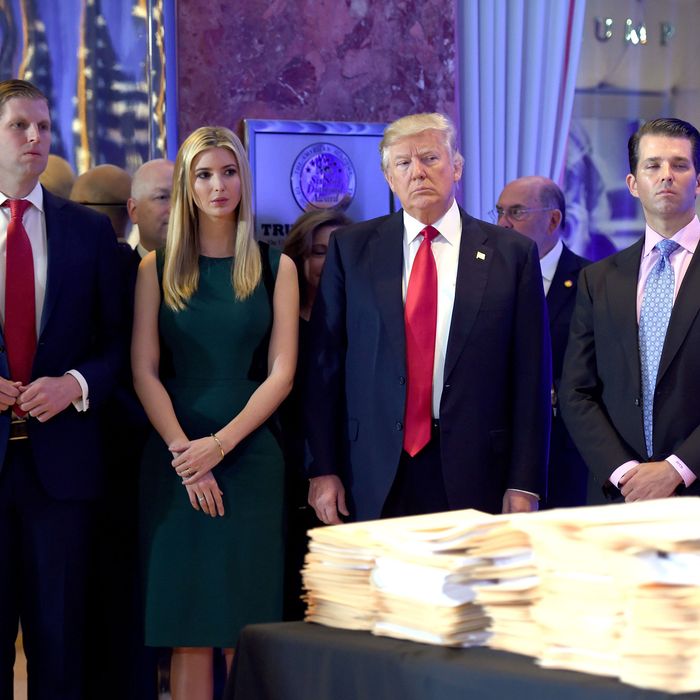 The Trumps aren't getting much love from their hometown.
Photo: Timothy A. Clary/AFP/Getty Images
New York is opening up a new front in its legal battle against the Trump Foundation. After a nearly two-year investigation, New York State Attorney General Barbara Underwood filed a civil suit against President Trump and his three oldest children last month, accusing their charity of violating campaign finance law, of self-dealing, and of illegally coordinating with Trump's presidential campaign. Now, the state has opened an investigation into whether the Trump Foundation violated state tax laws, which could lead to a criminal referral for possible prosecution.
According to the New York Times, state officials would not say when the Department of Taxation and Finance opened its investigation, or what specific activities are being examined, though the issues will likely overlap with Underwood's suit.
The tax inquiry could reveal more information than the civil suit, like the president's tax returns. If the probe turns up potential criminal activity, it could be referred to a law enforcement agency, like the state attorney general's office or a district attorney.
Governor Andrew Cuomo — who's tried to highlight his resistance to Trump in the face of a primary challenge from Cynthia Nixon — has been under pressure to give Underwood the referral she would need to launch a criminal probe. His office said on Wednesday that they are prepared to do so, but it seems the attorney general doesn't want a referral at this point.
"As our lawsuit against the Trump Foundation illustrates, we intend to hold the Foundation and its directors accountable for all violations of state law," said Underwood senior policy advisor Amy Spitalnick. "We continue to evaluate the evidence to determine what additional actions may be warranted, and will seek a criminal referral from the appropriate state agency as necessary."
Trump lobbed two angry tweets at "sleazy New York Democrats" in response to the civil complaint last month, but he has yet to comment on the tax investigation.