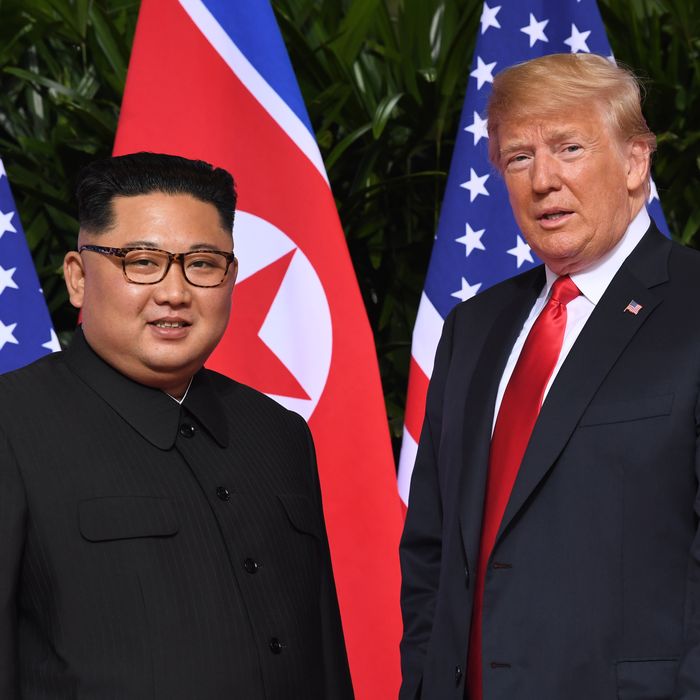 If you can't trust Rocket Man, who can you trust?
Photo: SAUL LOEB/AFP/Getty Images
As he returned from his summit with North Korean dictator Kim Jong-un last month, President Trump tweeted that "everybody can now feel much safer than the day I took office," as "there is no longer a Nuclear Threat from North Korea." He added, "Sleep well tonight!"
Many experts cautioned that the situation was still extremely dangerous, as Kim only signed a vague mutual commitment to denuclearize the Korean peninsula — a promise North Korean leaders have made and broken multiple times. Weeks later, sources said U.S. intelligence agencies have concluded that North Korea actually increased its production of nuclear weapons fuel in recent months, and plans to deceive the U.S. But Trump refused to let these realities ruin the tale of his triumphant North Korea summit. How could Kim be plotting against him when he sent him such a nice thank-you note?
Now intelligence officials are sending out a new alert. The Washington Post reported on Monday night that U.S. spy agencies see indications that North Korea is building new missiles at the same factory where it constructed its first intercontinental ballistic missile capable of reaching the U.S. New evidence, including satellite photos taken in recent weeks, suggests North Korea is working on one or two liquid-fueled ICBMs at a research facility in Sanumdong, which is on the outskirts of Pyongyang.
Independent missile experts reached the same conclusions this week based on images of vehicle movements around the Sanumdong facility. Jeffrey Lewis, director of the East Asia Nonproliferation Program at the James Martin Center for Nonproliferation Studies, said the facility "is not dead, by any stretch of the imagination."
While North Korea announced in April that it was suspending its nuclear and intercontinental ballistic missile tests, that didn't mean it was giving up any of its weapons. Workers have been seen dismantling an engine test stand at the Sohae Satellite Launching Station on North Korea's west coast, but it could be easily reconstructed in a matter of months. As the Post reports, intelligence agencies have gathered more evidence that suggests North Korea is working to conceal the extent of its nuclear capabilities:
Instead, senior North Korean officials have discussed their intention to deceive Washington about the number of nuclear warheads and missiles they have, as well as the types and numbers of facilities, and to rebuff international inspectors, according to intelligence gathered by U.S. agencies. Their strategy includes potentially asserting that they have fully denuclearized by declaring and disposing of 20 warheads while retaining dozens more.
That's not what President Trump wants to hear, but since he constructs his own reality, he doesn't have to. A few hours after the Post report was published, Trump tweeted this "video from a supporter," which includes a recap of how he successfully bullied Kim into embracing "complete denuclearization."