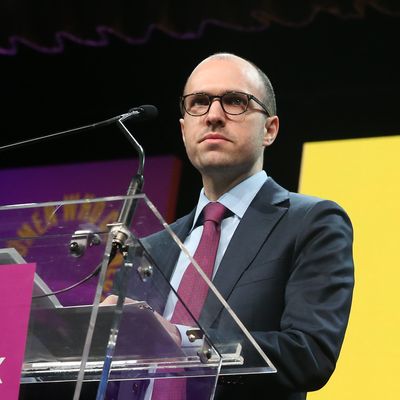 Times
publisher A.G. Sulzberger.
Photo: Rob Kim/Getty Images
A private attempt by New York Times publisher A.G. Sulzberger to reason with President Trump over his attacks on the media went about as well as anyone could have expected. Sulzberger acknowledged the meeting, which he says the president requested, after Trump violated their off-the-record agreement by not only tweeting about the meeting more than a week later, but also mischaracterizing what they talked about.
In a tweet on Sunday morning, Trump said he "had a very good and interesting meeting" with Sulzberger, and that the pair "spent much time talking about the vast amounts of Fake News being put out by the media & how that Fake News has morphed into phrase, 'Enemy of the People.' Sad!"
If the tweet was meant to imply that Sulzberger was somehow sympathetic to Trump's views on the media and what should be considered "Sad!," the Times publisher quickly released a statement insisting the opposite.
The Times statement said that Sulzberger and opinion editor James Bennet agreeing to meet Trump at the White House was "not unusual," as "there has been a long tradition of New York Times publishers holding such meetings with presidents and other public figures who have concerns about coverage." According to Sulzberger, however, he was the one with the concerns this time around.
"I told the president directly that I thought that his language was not just divisive but increasingly dangerous," Sulzberger said, adding that he "warned that this inflammatory language is contributing to a rise in threats against journalists and will lead to violence":
I told him that although the phrase "fake news" is untrue and harmful, I am far more concerned about his labeling journalists "the enemy of the people." I warned that this inflammatory language is contributing to a rise in threats against journalists and will lead to violence.




I repeatedly stressed that this is particularly true abroad, where the president's rhetoric is being used by some regimes to justify sweeping crackdowns on journalists. I warned that it was putting lives at risk, that it was undermining the democratic ideals of our nation, and that it was eroding one of our country's greatest exports: a commitment to free speech and a free press.




Throughout the conversation I emphasized that if President Trump, like previous presidents, was upset with coverage of his administration he was of course free to tell the world. I made clear repeatedly that I was not asking for him to soften his attacks on The Times if he felt our coverage was unfair. Instead, I implored him to reconsider his broader attacks on journalism, which I believe are dangerous and harmful to our country.
It seems that what Trump ultimately reconsidered instead, nine days later, was why he hadn't taken advantage of his meeting with "the enemy" sooner.