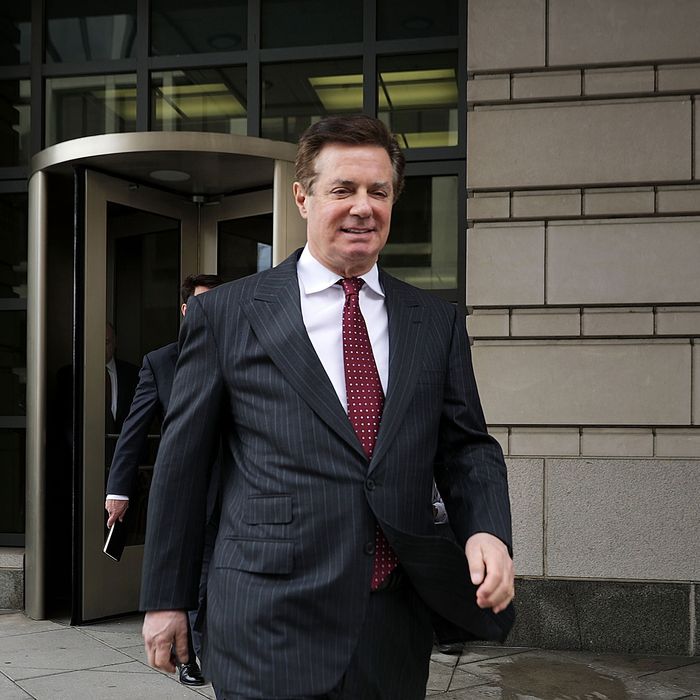 Manafort gets a reprieve.
Photo: Chip Somodevilla/Getty Images
A federal judge on Monday approved a request from Paul Manafort's lawyers to delay his trial for bank- and tax-fraud charges that was to begin Wednesday. It will instead begin on Tuesday, July 31.
Manafort's lawyers argued that they need more time to prepare for the trial. Specifically, they asked for more time to go through 120,000 pages of documents that Manafort lawyer Kevin Downing says he and his team received in the past several weeks. Many of the documents came from devices owned by Rick Gates, Manafort's longtime partner who has pleaded guilty and is cooperating with prosecutors.
Lawyers on Special Counsel Robert Mueller's team argued against the delay. They said many of the documents are from four "phones or iPads" belonging to Gates and most were printouts of images. "I'm just not sure what looking at pictures is going to do for their case," Uzo Asonye, a lawyer on Mueller's team, said in court Monday.
U.S. District Judge T.S. Ellis sided with Manafort's team and granted the delay, but it was much shorter than the extension defense lawyers requested. They wanted to put the trial off until later this fall.
Former U.S. attorney Joyce Alene tweeted that Ellis likely agreed to the delay because he "wants to make sure Manafort has had enough time to prepare so there are no gounds [sic] for appeal if there is a conviction."
With a July 31 start date, Manafort's trial is coincidentally set to begin on the second anniversary of the FBI's investigation into ties between Donald Trump's campaign, which Manafort once ran, and Russia.