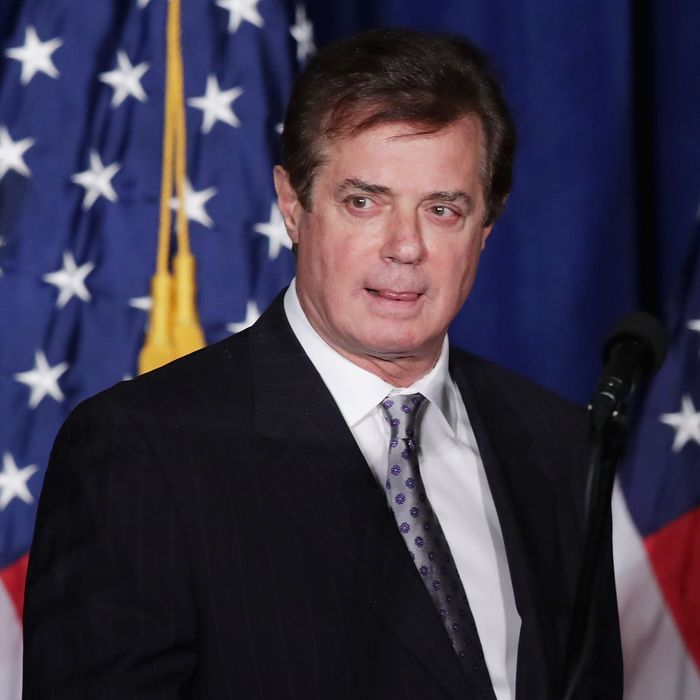 Paul Manafort.
Photo: Chip Somodevilla/Getty Images
It's been exactly two years since the FBI began looking into Trump campaign associates' potential involvement in Russia's 2016 election meddling, and on Tuesday the first trial stemming from that investigation will kick off in Virginia. Former Trump campaign chairman Paul Manafort is facing 18 charges of bank and tax fraud, mostly related to his work as a political consultant in Ukraine prior to joining the campaign. The most explosive charges — money laundering and failing to register as a foreign agent — will be addressed in a second trial set to start in September in Washington, D.C. While "collusion" won't be the focus in court this week, the first Manafort trial could have major implications for Trump and Special Counsel Robert Mueller's broader investigation. Here's what you need to know.
What Is Manafort Accused Of?
Prosecutors allege that from 2008 to 2014, Manafort hid the millions he earned from from the Ukrainian government and Ukrainian oligarchs to promote the country's then-president Viktor Yanukovych. An indictment filed in Virginia in February described a "scheme" in which Manafort and his business partner Rick Gates funneled $30 million through offshore accounts, and failed to pay U.S. taxes for almost a decade. While Manafort claimed he had no foreign bank accounts, prosecutors say he actually had 16, mostly in Cyprus, which he used to finance a lavish lifestyle in the U.S. Per the Washington Post:
He spent $6.4 million on real estate in New York and Virginia, another $7.3 million on home renovations and $820,000 on landscaping, prosecutors said in court documents. They said he paid $2 million for rugs in Virginia and antiques in New York. Nearly $1.4 million went to clothes at New York custom suitmaker Alan Couture and Beverly Hills designer House of Bijan, including a $21,000 Bijan "Royal Way" watch. (Bijan's slogan: "The most expensive in the world.") For three Range Rovers and a Mercedes-Benz, $300,000.
When Yanukovych fled Ukraine following a popular uprising in 2014, Manafort allegedly resorted to bank fraud to keep himself afloat, using his real-estate holdings to fraudulently secure $26 million in loans.
Manafort has pleaded not guilty to all charges.
What Does This Have to Do With Russia?
Manafort is a key figure in the Russia probe for numerous reasons. His work involved promoting pro-Russian political forces in Ukraine, he had business dealings with Russian oligarch Oleg Deripaska, and he attended the June 2016 meeting with a Kremlin-connected lawyer at Trump Tower. During his time on the Trump campaign, Manafort was in contact with Konstantin Kilimnik, who prosecutors say had active ties to Russian intelligence.
However, we won't be getting into any of that in the coming weeks. Federal prosecutors have promised the judge in the Virginia case that they'll keep the focus on financial crimes, and won't even discuss allegations of Russia collusion. Mueller's team may be saving that for Manafort's next trial.
Why Is Manafort Facing a Second Trial?
Manafort is set to face a second trial on September 17 in Washington D.C. on charges of money laundering and failing to register as a foreign agent when he was lobbying on behalf of Ukraine. Prosecutors gave Manafort the option of combining the two indictments into a single trial, but he declined.
Some were puzzled by that decision, but the defense may be hoping that jurors in Virginia, where Manafort owns a home, will be more sympathetic. "There's no question the jury pool will be better for him in Virginia," an attorney representing a witness in the Mueller probe told Politico. "It's definitely a risky gambit."
What's Expected to Happen During the Trial?
The Virginia trial should last about three weeks. Prosecutors have submitted a list of 35 people they intend to call as witnesses, including mostly accountants, bankers, and people who can testify about Manafort's purchases of luxury goods. The star witness will likely be Gates, Manafort's former business partner, who was charged with Manafort but then cut a deal with prosecutors. Manafort's former personal assistant, Alex Trusko, who helped prosecutors obtain search warrants for Manafort's home and a storage locker containing his business records, is also set to testify.
Though his team is prosecuting the case, it's unlikely that Mueller himself will make an appearance in the courtroom. Cameras and electronic devices are prohibited, so there will be no real-time coverage of the proceedings.
How Long Could Manafort Go to Prison?
Manafort could spend the rest of his life in prison, based only on the charges in Virginia. If found guilty of the bank-fraud charges he could be sentenced to a maximum of 270 years in prison. Charges of filing a false tax return could add another 15 years, and failing to report foreign bank accounts could add on 20 years. If he's then convicted of the charges he's facing in D.C., that could add 15 to 20 years in prison.
"Given the nature of the charges against the defendant and the apparent weight of the evidence against him, defendant faces the very real possibility of spending the rest of his life in prison," noted Judge T.S. Ellis III, who's presiding over the Virginia case.
Manfort is already getting a taste of prison life. He had been on house arrest, but last month a federal judge revoked his bail in light of new charges of attempted witness tampering, sending him to jail to await trial.
What's at Stake for Trump and Mueller?
While Manafort has signaled repeatedly that he's not interested in cutting a deal with Mueller, that could change if life in prison starts looking more likely.
"Manafort seems to have stuck with this pardon strategy that Michael Cohen recently abandoned," Jonathan Turley, a George Washington University professor of law, told The Hill. "Manafort has refused to cooperate with Mueller and has refrained from attacking the president."
On Monday Trump's lawyer, Rudy Giuliani, asserted that Manafort won't flip no matter how much Mueller's team squeezes him, because he "has no information incriminating of the president."
Though the case doesn't appear to directly involve Trump, it's seen as a test for the entire Mueller probe. If Manafort is acquitted, Trump will say he was right all along about his investigation being a "witch hunt" (though Mueller's team has already indicted 30 other people and three companies, and secured several guilty pleas). Other Mueller targets could become less cooperative.
On the other hand, the conviction of one of Trump's top campaign officials will make it harder for the president and his allies to claim there's nothing to the Mueller probe.
"The din of the verdict will be deafening," Mark Corallo, a former spokesperson for Trump's legal team told Politico.
"If Manafort is acquitted it'll be the pro-Trump side blasting the special counsel, blasting the whole process, urging for the dismissal of the office of special counsel and shutting down the investigation and all of that."
"If it goes the other way," he added, "the left and anti-Trump side will be screaming at top of their lungs that Trump should be impeached."