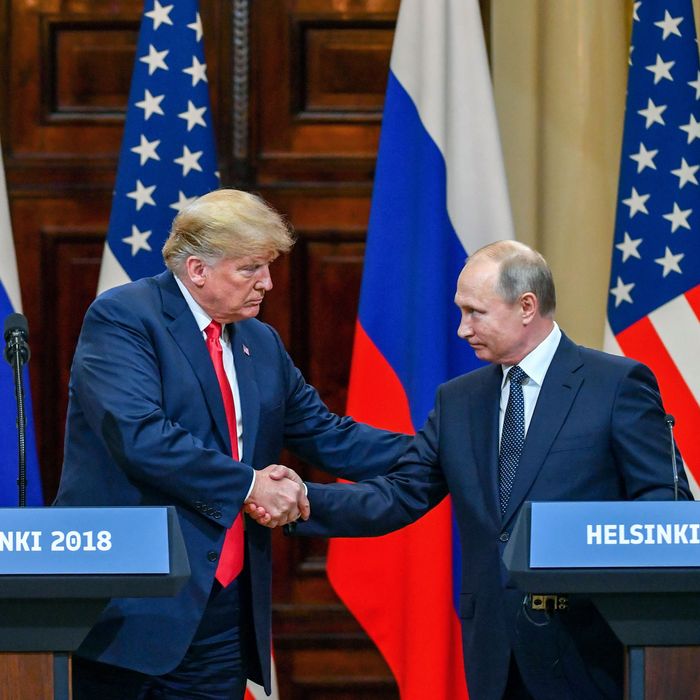 "Be my guest," Putin said he told Trump.
Photo: Yuri Kadobnov/AFP/Getty Images
Donald Trump and Vladimir Putin want to see each other, but they can't decide when and where.
Last week, just days after they met in Helsinki, Trump invited Putin to Washington for a second sit-down. When the Kremlin seemed cool to the idea, the White House backed away, suggesting that the two men should wait to meet until "after the Russia witch hunt is over," as national security adviser John Bolton put it. Bolton added that the two countries had agreed to put off the meeting until "after the first of the year."
But Friday, Putin accelerated the timeline, saying that he's ready to come to the White House and revealing for the first time that he's invited Trump to Moscow.
"We are ready to invite President Trump to Moscow. Be my guest," Putin said at a meeting in Johannesburg, South Africa. "He has such an invitation, I told him that." In response, the White House said that Trump is "open to visiting Moscow" once he gets a "formal invitation."
Putin, who also said he's "ready to go to Washington," repeatedly acknowledged that the conditions must be right before the two men can get back together. Among the issues Putin said he's eager to talk about are nuclear arms control, conflicts in the Middle East, and the Iran nuclear deal. "There are some things you can't do over the phone," he added.
If Trump accepts Putin's invitation and travels to Moscow, it would mark his first visit to the city since the 2013 Miss Universe pageant, and we all know what (allegedly) happened there.