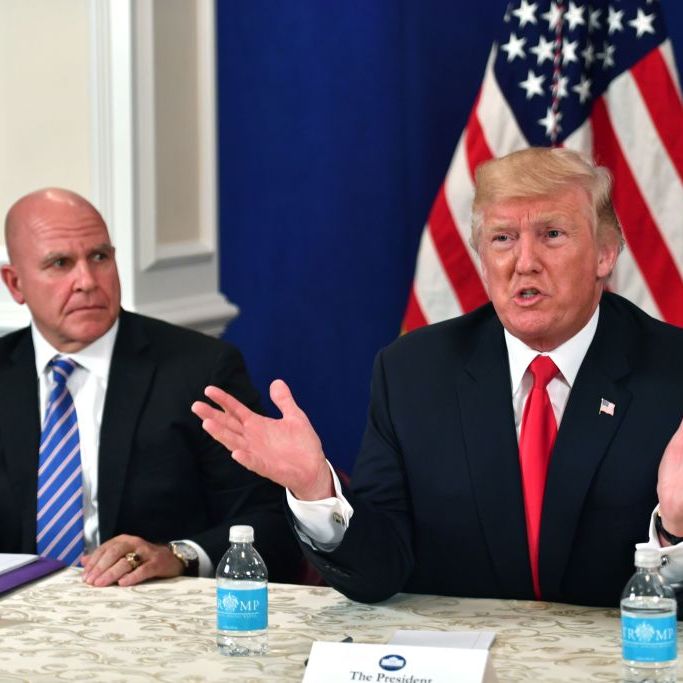 Trump and former National Security Advisor H.R. McMaster.
Photo: AFP Contributor/AFP/Getty Images
Last summer, Donald Trump was so fixated on invading Venezuela that he had to be talked down by multiple members of his administration and allies in the region, the Associated Press reports.
Trump first floated the idea of sending the U.S. military to Venezuela during an Oval Office discussion of sanctions against the South American nation. The "suggestion stunned" those in the meeting, including former Secretary of State Rex Tillerson and former national security advisor H.R. McMaster, the AP reports. But they soon regained their composure and explained to Trump that, among other reasons not to invade, defying the wishes of U.S. allies in Central and South America would be a huge mistake.
Trump wasn't entirely convinced. After the meeting, he told reporters that he wouldn't "rule out a military option" in Venezuela and later brought up a potential invasion to Colombian President Juan Manuel Santos.
Trump's dreams of using the military to oust Venezuelan President Nicolás Maduro were finally squashed during a meeting with Latin American leaders on the sidelines of the U.N. General Assembly. Despite being told by his aides not to bring up a potential invasion, Trump did. "My staff told me not to say this," he said before asking everyone if they were sure they didn't want the U.S. military rolling into Caracas to depose Maduro. Yes, the leaders said, they were sure.