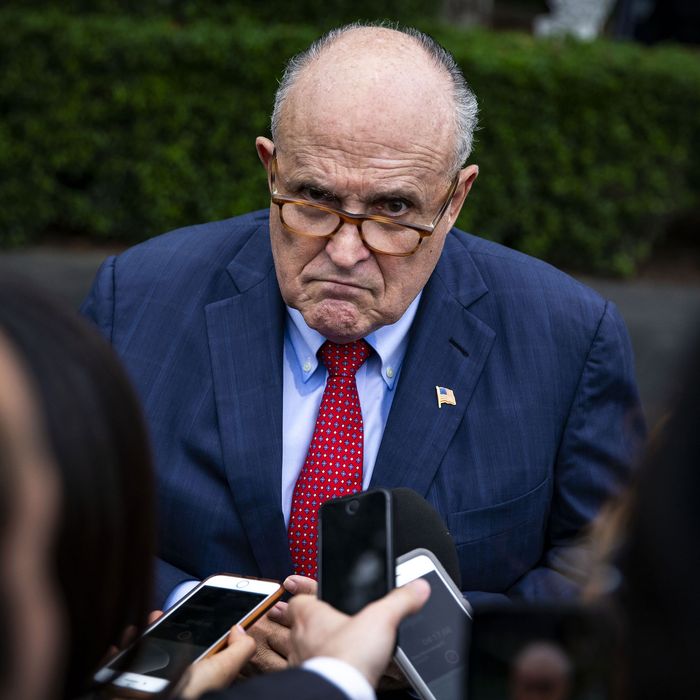 Rudy Giuliani, former mayor of New York, speaks with reporters during the White House Sports and Fitness Day event on the South Lawn of the White House in Washington, D.C., on May 30, 2018.
Photo: Al Drago/Bloomberg via Getty Images
Last week, CNN reported that Michael Cohen will testify that Donald Trump was contemporaneously informed of the 2016 Trump Tower meeting between Russian officials promising dirt on Hillary Clinton and several of his close advisers. What we have seen over the last day is a sharp turn in the pro-Trump message, from denying that any collusion took place to redefining what collusion means and whether it is okay.
Anthony Scaramucci was asked yesterday whether he believes Cohen or Trump. Scaramucci — who was on the campaign at the time — paused several seconds, blinked three times, cocked his head, took a deep breath, and said, "It's a good question. I mean, listen, I–I–I–I– it's not clear to me Michael leaked that, and so I'm gonna, I'm gonna stay on the side of the president here, I'm gonna take the president at his word that he didn't know."
I haven't seen a denial with this much conviction since Paul Manafort told Norah O'Donnell in 2016 that the Trump campaign had no financial relationships with any Russian oligarchs:
You can see the lack of lines of defense in this rapid, almost panicked retreat. Appearing on This Week, another Trump surrogate, Chris Christie, declared, "Collusion is not a crime. And so the fact of the matter is that we're a long way away yet from having anything to talk about here." Trump lawyer Rudy Giuliani tells Fox & Friends, "I have been sitting here looking in the federal code trying to find collusion as a crime. Collusion is not a crime."
As you watch Trump's defenders retreating over the horizon, a salient fact to bear in mind is that there are probably more revelations to come with regard to collusion. Roger Stone had a long series of contacts with hackers. He also communicated with Trump regularly throughout the campaign. Stone is promising never to roll on Trump, but that promise implies that he has a secret to keep.
If somebody else can testify that Stone spoke with Trump, we will have evidence not only that Trump personally colluded with Russians, but that he was privy to negotiations with the Russian hackers over the stolen material. Giuliani may have this possibility in mind when he insists on CNN that Trump would have to have committed the hacking with his own stubby fingers to be guilty. "Colluding [with] Russians" — he begins chuckling — "I don't even know if that's a crime — colluding with Russians. Hacking is the crime. The president didn't hack! He didn't pay for the hacking."
Giuliani is maintaining that Trump is innocent unless he either paid for the hacking or carried it out personally. I think we can all agree that Trump lacks the technical expertise to personally design and execute a spearfishing attack on John Podesta or the Democratic National Committee. He had no need to pay for the hacking, because Russia was only too happy to do it for him, and share the proceeds. If Trump solicited the hacking, or was an accessory to the crime, his lawyer is prepared to paint him as innocent.