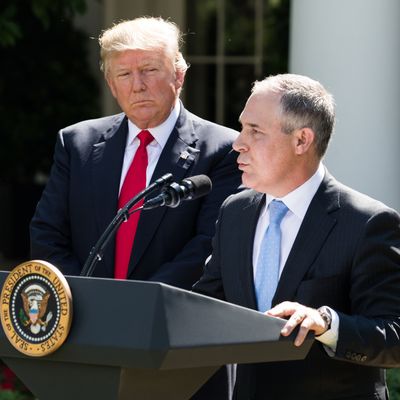 Don't go chasing waterfalls, please stick to the taxpayer-funded private flights you're used to.
Photo: Cheriss May/NurPhoto via Getty Images
President Trump has shown time and time again that he's obsessed with loyalty, from his reported request for a fealty pledge from former FBI director James Comey to his declaration that he could shoot someone in the middle of Fifth Avenue and his base would still stand by him.
It seems Scott Pruitt recognized this, and calculated that a steadfast commitment to the president and his agenda would let him weather any storm. The strategy worked shockingly well. The EPA administrator survived months of increasingly outlandish misconduct allegations — featuring props like a used Trump hotel mattress, fancy lotion, expensive fountain pens, and a $43,000 soundproof phone booth — because Trump only cared that environmental regulations were being torn up, and Pruitt took an "adoring tone" in their interactions, according to the Washington Post.
But Pruitt miscalculated on two points. First, he concentrated solely on ingratiating himself to his boss, and made no effort to inspire the same loyalty in his underlings. While Pruitt's corruption might have been the most colorful, Trump's Cabinet officials have sparked many other ethics investigations. Some outrageous Trump remark would quickly sweep those stories out of the headlines, but disgruntled former Pruitt staffers made sure his misconduct remained a top focus for months.
Kevin Chmielewski, Pruitt's former deputy chief of staff, was accused of leaking about Pruitt's travel habits in retaliation for his firing in early 2018. Chmielewski angrily denied it, but as the Daily Beast notes, he then went on the record with the media and congressional investigators, describing a litany of abuses:
He dished about the lobbyist who arranged a Pruitt trip to Australia (PDF); efforts to purge the administrator's schedule of politically problematic events; seemingly excessive spending on Pruitt's personal security; expensive and lavish decorative purchases for his office; the use of sirens and lights on vehicles driven by Pruitt's personal security detail to more easily navigate D.C. traffic; and the tasking of Pruitt's scheduling assistant, Millan Hupp, to run personal errands.
Just before Pruitt resigned, Chmielewski and another former Pruitt aide, senior scheduler Madeline Morris, went on the record with the New York Times, saying she was fired for questioning the practice of retroactively deleting meetings from Pruitt's official calendar, which she believed was illegal.
After Hupp told congressional investigators that Pruitt tasked her with tracking down a used Trump hotel mattress, she resigned. Then, according to the Daily Beast, Pruitt tried to ruin her career:
In response to what he interpreted as an attempt to embarrass him, Pruitt called around to allied conservative groups to complain that Hupp was untrustworthy — and, by implication, that their organizations should not hire her, as the Daily Beast previously reported. Sources familiar with Pruitt's conduct of orchestrating behind-the-scenes campaigns against his own former lieutenants described the former EPA administrator as regularly "ratfucking," a Nixon-era term to describe political dirty tricks.
The animosity toward Pruitt wasn't limited to a few former aides. The Hill reported that he created a work environment in which young aides were pitted against each other, he expected employees to do whatever he wanted, and he rarely acknowledged their efforts.
"That's the difference between Pruitt and Trump. Trump rewards loyalty, but Pruitt couldn't care less," said a former senior staffer.
That's actually a common misconception, and it's Pruitt's second mistake. Trump once declared, "I value loyalty above everything else," and it can seem like he's bizarrely devoted to his top aides — for instance, keeping his campaign manager Corey Lewandowski on staff even as he faced a battery charge for grabbing a female reporter. But if Trump decides someone is a liability, he'll drop them in an instant. Michael Cohen has made it abundantly clear that he doesn't want to flip on his beloved boss, but the president isn't sticking his neck out to save his scandal-plagued fixer from federal prosecutors. Trump reportedly turned his back on his friend and mentor Roy Cohn when he found out he had AIDS, prompting the notorious attorney to remark, "Donald pisses ice water."
It seems Pruitt's dismissal followed a similar pattern. He spent the Fourth of July happily mingling at two Trump administration parties, giving no indication that he thought anything was amiss. Despite their chummy relationship, the next day Trump tasked someone else with firing Pruitt. The Post reports:
In the end, according to two administration officials familiar with internal discussions, Trump forced Pruitt out Thursday without speaking to him — instead having his chief of staff call the Environmental Protection Agency around midday to say it was time for Pruitt to go.
Trump described a much different, more flattering scene, telling reporters that the EPA chief "came to me and said, 'I have such great confidence in the administration. I don't want to be a distraction.'"
Trump said there was "no final straw," that led to Pruitt's exit, and several reports suggest it was a cumulation of negative press that did him in. But the New York Times said Trump found one recent story particularly embarrassing: a report that Pruitt had asked Trump to fire Jeff Sessions and make him attorney general. Then the story about Pruitt's potentially criminal schedule changes raised new concerns in the White House that he was too much of a liability.
By now everyone should be aware that the only person Trump is really loyal to is himself. However, some fervent Trump supporters can be quite naive — like GOP donor Doug Deason.
"I am just so disappointed in the president's failure to support Scott against the angry attacks from the loony left," Deason told Politico. "Nothing he did amounted to anything big. He was THE most effective cabinet member by far."
"Scott Pruitt is a sacrificial lamb and I have no idea why," he added.