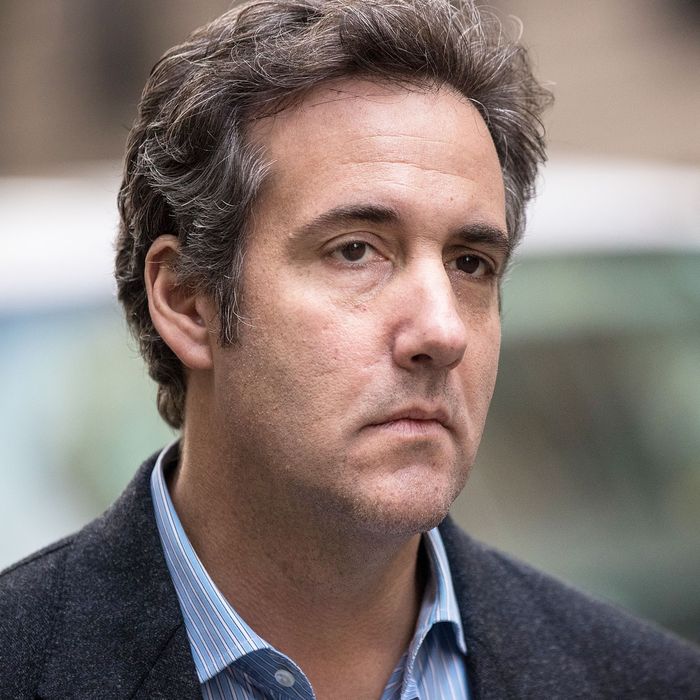 Michael Cohen, former personal attorney for President Donald Trump, exits the Loews Regency Hotel, May 11, 2018.
Photo: Drew Angerer/Getty Images
On November 4, 2016, The Wall Street Journal reported that the National Enquirer paid $150,000 to Karen McDougal for the rights to her account of her affair with Donald Trump, which it did not publish. (The Enquirer's owner, David Pecker, is a close Trump ally who puts his pages at Trump's disposal.) Trump denied both the affair and the payment. ("We have no knowledge of any of this," said campaign spokesperson Hope Hicks.)
That was not true. Trump discussed the payment in a September 2016 conversation with his lawyer, Michael Cohen, who recorded it and recently gave the tape to CNN. "Um, I need to open up a company for the transfer of all of that info regarding our friend David," says Cohen in the recording. "So what do you got to pay for this … one-fifty …" Trump replies. "Yes," says Cohen. "Um, and it's all the stuff."
Exactly what "all the stuff" means remains unknown at this time. Maybe they were referring to some generous charitable donations Trump wanted to keep private, or the revelation that Trump and McDougal spent most of their time studying economic policy.
One legal risk here is that Trump was violating campaign law by making a donation intended to help his campaign (by suppressing an embarrassing story) that exceeded spending limits. The most dicey part of the conversation comes when Cohen and Trump are heard discussing financing:
Cohen: And, I spoke to Allen about it, when it comes time for the financing, which will be —

Trump: Wait a sec, what financing?

Cohen: Well, I'll have to pay him something.

Trump: [UNINTELLIGIBLE] pay with cash …

Cohen: No, no, no, no, no. I got it.

Trump: … check.
Trump's legal team insists the reference to paying cash does not indicate that Trump was attempting to conceal the payment. "Anyone who knows anything about the company or how the president does business knows there is no green cash," says Trump lawyer Alan Futerfas. "Everything is documented. Every penny is documented." On the other hand, if Trump was conducting this transaction in a totally aboveboard fashion, it's hard to understand why Trump and Cohen set up Delaware-based shell companies to facilitate their transactions. It's also hard to explain why Trump's lawyers last night released a transcript of the call in which Trump says "don't pay with cash," a line that cannot be heard on the tape. (Trump's administration has also altered the transcripts of his press conference with Vladimir Putin.)
Another Trump lawyer, Rudy Giuliani, took to Fox News to explain that nothing in the tapes was very bad when considered in the appropriate context. "I've done tapes even longer than Alan Dershowitz. How about 4,000 hours of Mafia tapes … I've dealt with much worse tapes than this."
It is certainly true that this tape is less incriminating than many secret conversations between members of organized crime families. Whether that is the proper standard to judge the president of the United States is another question.