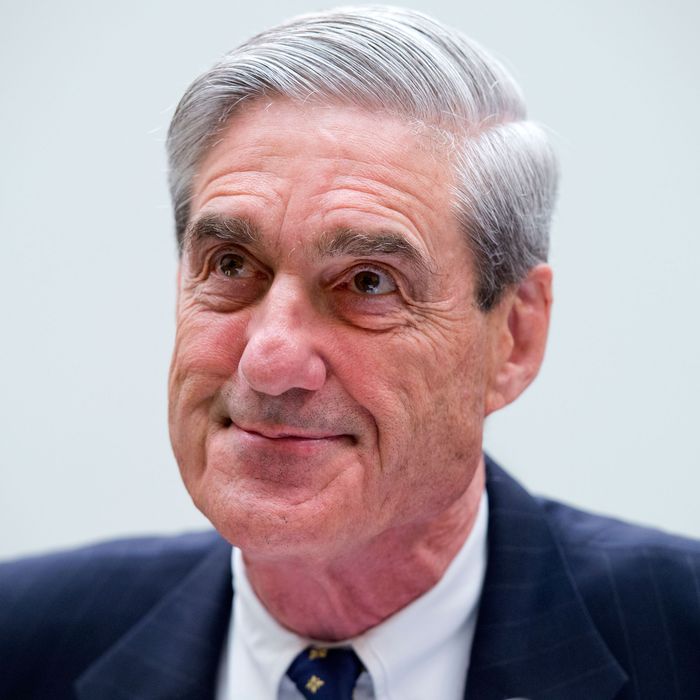 That smile won't last once he starts reading Trump's tweets.
Photo: Tom Williams/CQ-Roll Call,Inc.
Somewhere on the long list of reasons that Donald Trump is president is his early embrace of Twitter. First, Trump used it to promote himself as a brilliant businessman (which he's not); then, as a medium to attack political opponents (which he's good at); and now, as a way to communicate with the world as president (which is making most people crazy).
Ironically, now, according to the New York Times, there's at least a small chance that Twitter could also lead to his demise. On Thursday, the paper reported that Special Counsel Robert Mueller is probing Trump's tweets as he investigates the president for obstruction of justice.
The special counsel, Robert S. Mueller III, is scrutinizing tweets and negative statements from the president about Attorney General Jeff Sessions and the former F.B.I. director James B. Comey, according to three people briefed on the matter.




Several of the remarks came as Mr. Trump was also privately pressuring the men — both key witnesses in the inquiry — about the investigation, and Mr. Mueller is examining whether the actions add up to attempts to obstruct the investigation by both intimidating witnesses and pressuring senior law enforcement officials to tamp down the inquiry.
The report goes on to cite Mueller's desire to "question the president about the tweets." Among the missives in question are those targeting Sessions in July of 2017. These were sent at the same time, Mueller has learned, that Trump was privately pressuring Sessions to resign so he could be replaced with someone who would not recuse himself from the Russia investigation.
Mueller is also interested in Trump's attacks on Comey, which include a veiled threat about taped conversations between the two men. Such "tapes" do not exist, Trump later admitted.
While none of these tweets alone are believed to amount to obstruction of justice, they're thought to be a part of Mueller's plan to build a case that Trump was on a broad mission to interfere with the investigation.
Trump's lawyers continue to insist that he's done nothing outside of the scope of his power, though. And anyway, Rudy Giuliani told the Times, "If you're going to obstruct justice, you do it quietly and secretly, not in public."