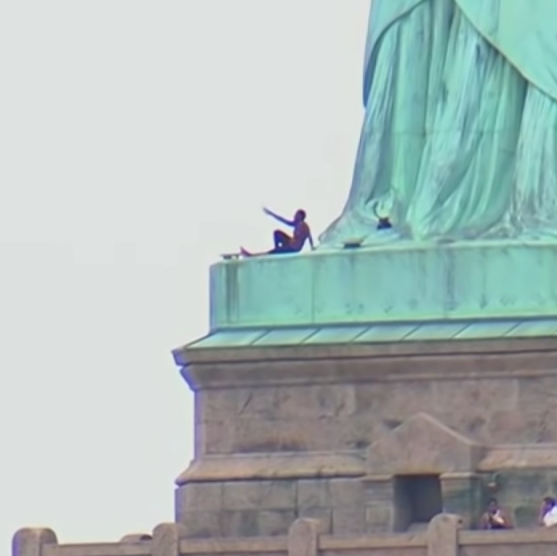 Okoumou during the standoff with police.
Thousands of people were evacuated from Liberty Island on July 4 after a woman scaled the monument to protest the Trump administration's immigration policies and refused to come down. After a three-hour standoff, police officers cornered the woman and helped her down, then took her into custody.
The woman, identified as 44-year-old Therese Patricia Okoumou of Staten Island, started climbing around 3 p.m. after protesters from a Rise and Resist protest unfurled a banner that read "Abolish ICE!" Seven protesters were arrested over the unauthorized demonstration.
Martin Joseph Quinn, a Rise and Resist organizer, told CNN that Okoumou is involved in the group but her climb was not part of their plan. "She climbed without our knowledge. It was not part of our action," Quinn said.
As TV news covered the incident live all afternoon, Okoumou stationed herself at the bottom of the statue, lounging under Lady Liberty's shoe and sitting in the folds of her dress. An NYPD source said she declared she wouldn't come down until "all the children are released," meaning the migrant children separated from their parents at the border.
The National Park Service decided to shut down Liberty Island over security concerns around 3:30 p.m., and within an hour all 4,500 visitors had been evacuated. The Fourth of July is one of the busiest days at the monument; typically, about 20,000 tourists visit during the holiday.
"I feel really sorry for those visitors today" said National Park Service spokesman Jerry Willis. "People have the right to speak out. I don't think they have the right to co-opt the Statue of Liberty to do it."
Officer Brian Glacken, one of the 16 NYPD officers who took part in the effort to rescue and apprehend Okoumou, said she was initially hostile as they tried to coax her down, but eventually they established a rapport.
"She just kind of mentioned the kids in Texas. I guess the whole debate that's going on about that. In the beginning, she threatened to push us off, push the ladder off, but we stayed with her," Glacken said.
Around 6:30 p.m., rescuers from the NYPD's Emergency Service Unit, who were attached to ropes, climbed up and cornered Okoumou. "At first she was being a little combative, then she was willing to cooperate with us. She actually apologized to us for having to go up and get her," Glacken told reporters.
Officers put a harness and ropes on Okoumou and helped her climb down a ladder. She was then arrested at the monument's observation point. Okoumou is facing several federal misdemeanor charges including trespassing, disorderly conduct, and interfering with government functions.