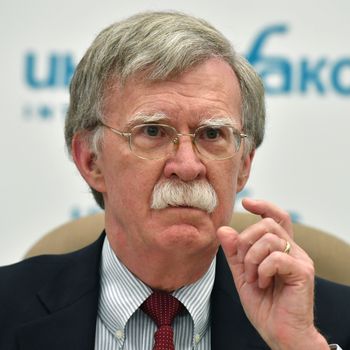 John Bolton has a plan (that no one believes is even remotely possible).
Photo: Yuri Kadobnov/AFP/Getty Images
Officials from North Korea and the U.S. met on Sunday for the first time since President Trump's substance-lite summit with North Korean dictator Kim Jong-un last month, but it's still far from clear what they could possibly agree to.
National Security Adviser John Bolton claimed on Sunday that the Trump administration has a plan to denuclearize North Korea that would only take one year. Appearing on CNN's State of the Union and Fox News Sunday, Bolton explained that the program would be contingent on North Korea cooperating and disclosing all of its nuclear, chemical, and biological weapons — an enormous "if" — but that Kim was repeatedly "very emphatic" about wanting to denuclearize at the summit with President Trump last month.
Bolton also said that the plan had not been put into action yet, which makes sense when you consider the fact that there is no denuclearization agreement between the two countries, they don't seem close to one, and there hasn't been any indication that they even agree what denuclearization means.
Bolton's supposed one-year plan, which was widely panned by North Korea experts on Sunday, is similar to what he used to call the "Libya model." That earlier plan, not surprisingly, did not go over very well in Pyongyang, since the U.S. ultimately supported a regime-changing rebellion in Libya after it disarmed.
In both of his Sunday appearances, Bolton also refused to answer questions about reports from NBC News and the Washington Post, in which anonymous U.S. intelligence officials say North Korea has been ramping up its production of nuclear fuel at multiple secret sites and coming up with ways to deceive the U.S. about the scale of its nuclear-weapons program. Then on Sunday night, The Wall Street Journal reported that researchers have determined that North Korea is rapidly completing a major expansion of a key missile-manufacturing facility — one that produces reentry vehicles and solid-fuel ballistic missiles designed to enable nuclear strikes with greater surprise or at greater distances.
These reports all obviously contradict President Trump's public stance on North Korea, which was that his negotiations with Kim were successful, and as a result, "there is no longer a nuclear threat" from North Korea. Secretary of State Mike Pompeo has tried to walk that statement back, but Pompeo has also falsely tweeted on Saturday that Kim Jong-un had agreed to "fully verified denuclearization" — which again, would be pretty hard to do without having an actual agreement in place.
Bolton said on Sunday that Pompeo would be presenting their one-year plan to the North Koreans soon, but just a few days prior, Pompeo declined to put a timeline on negotiations with Pyongyang. In the meantime, he explained, the U.S. has been trying to gauge North Korea's seriousness, but it seems likely that the White House has already gotten that answer in the form of the Defense Intelligence Agency assessment that was leaked to NBC News and the Post.
That assessment has reportedly concluded that North Korea is trying not only to expand their arsenal in the weeks since the summit, but to figure out how to declare fewer nuclear weapons and nuclear fuel-production facilities than they have. It remains unclear why intelligence officials leaked it to the media, though one former weapons inspector who spoke with the Post implied that it might be because the intel community doesn't trust the Trump administration to negotiate a realistic deal. If the leak was authorized, however, that could mean that the Trump administration is working to highlight and leverage North Korea's bad faith ahead of additional negotiations.
Then again, as analysts like Vipin Narang point out, North Korea's covert actions should come as no surprise to anyone:
In a Fox News interview that aired Sunday, President Trump insisted that North Korea was serious about a deal, defended his summit spectacle in Singapore, and claimed that he gave nothing to Kim — despite the fact that he made a major concession by agreeing to end joint military exercises with South Korea. (It was to save money, Trump claimed.)
The president also made it sound as though he had made a real deal with Kim, when all they actually did was sign a vague mutual commitment to denuclearization.
"I made a deal with him, I shook hands with him, I really believe he means it," Trump explained, then hedged, "Now, is it possible? Have I been in deals, have you been in things where, people didn't work out? It's possible."
Bolton maintained on Sunday that Trump didn't get taken advantage of by Kim. A better way to put it might have been that the Trump administration can't have its plan foiled if it never had one in the first place.