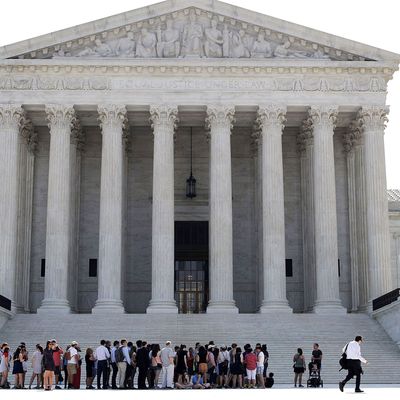 This will be someone's new workplace soon.
Photo: Chip Somodevilla/Getty Images
One day before President Trump's primetime, reality show-style announcement of his Supreme Court pick to replace Anthony Kennedy, the speculation game over his choice is at full tilt. And while nothing definitive has leaked from this leak-prone White House — it helps that President Trump appears not to have made up his mind yet — there have nonetheless been some intriguing developments over the last 48 hours, all of them involving the four candidates widely thought to be the finalists. (A disclaimer: It is wise to take all such speculation with a fun-sized flake of Maldon sea salt.)
Going into the weekend, which Trump spent at his golf club in Bedminster, New Jersey, the leading contender for the seat was thought to be Brett Kavanaugh, a 53-year-old appeals court judge for the District of Columbia Circuit.
Kavanaugh may well still get the nod. But on Sunday, the New York Times reported that Judge Thomas Hardiman, who had thought to have fallen out of the top tier of contenders, was being given a "fresh look" by Trump, who finds his "personal story to be compelling." Hardiman, a reliably conservative appeals court judge for the Third Circuit in Pennsylvania — where he served with President Trump's sister before she retired — is the first person in his family to attend college, and once drove a taxi. (One component of his life story working against him: Trump apparently favors candidates who attended Harvard or Yale, but Hardiman matriculated at measly old Georgetown and Notre Dame.)
Hardiman, who is also 53, comes with another advantage: He was the runner-up for the Supreme Court slot that went to Neil Gorsuch last year, which means that he's already been through a key part of the nomination process. "Hardiman was fully vetted last time, and flawless record, too," a source close to the White House told NPR. "So, he would be the easy pick."
Senate Majority Leader Mitch McConnell is enthusiastic about Hardiman for a third reason: his light judicial record. McConnell reportedly told Trump in a phone call that Hardiman or Raymond Kethledge, another short-lister who serves as an appeals court judge for the Sixth Circuit, would be easier to confirm than Kavanaugh or Amy Comey Barrett, the fourth contender, because their thin paper trails would more easily forestall Democrat lines of attack. The Times reports that Kethledge has been all eliminated from the proceedings because Trump finds him "comparatively dull," though other outlets weren't so skeptical of his chances.
It is hardly a certainty that Senators Susan Collins and Lisa Murkowski, the two most moderate Republicans in the upper chamber, would vote against any of Trump's selections. But McConnell apparently believes that all 49 Democrats, even the ones facing tough elections in red states, will line up against a prospective pick, and wants to leave nothing to chance. (Because of ailing Senator John McCain's absence from Washington, McConnell is working with a razor-thin one-vote Republican margin.)
The Washington Post reports that while Hardiman's stock has risen, with boosters like Rick Santorum talking him up to the president, "White House officials cautioned Sunday that Trump's informal conversations with golf partners and friends did not necessarily hint at whom he would ultimately select for the court."
While McConnell views Hardiman's narrow resume as an asset, not everyone agrees. Leonard Leo, the influential head of the Federalist Society, which has held enormous sway in Trump's judicial decision-making, told ABC's George Stephanopoulos that "with regard to Ray Kethledge and Tom Hardiman, they're a little bit less known by conservatives. And their records are a little bit lighter. So, it might take some time" to garner support among conservatives.
Leo also said that the Democratic focus on the next justices' attitude toward Roe v. Wade was a "scare tactic," citing Justice Clarence Thomas as the only current justice who has gone on record as wanting to overturn the law.
But the issue may be enough to scuttle the chances of Amy Coney Barrett, an appeals court judge for the Seventh Circuit, who is seen as the most socially conservative of Trump's four choices. Barrett has written that stare decisis — a.k.a. established judicial precedent — "is not a hard-and-fast rule" at the Supreme Court, words that may scare off the pro-choice Collins and Murkowski.
There is a school of thought that thinks Trump should roll the dice anyway:
Kavanaugh, meanwhile, has drawn fire from some social conservatives who complained that he was insufficiently dogmatic on abortion and health care. But if Trump passes him over, it may be less because of his convictions than his deep connections to George W. Bush. Kavanaugh served as staff secretary for the 43rd president, whom Trump has derided repeatedly. While working for Kenneth Starr, he also argued that Bill Clinton should be impeached over the Monica Lewinsky scandal — an opinion that could rankle Trump as he faces Special Counsel Robert Mueller's investigation.
Still, Kavanaugh enjoys strong support within the White House, and the Heritage Foundation's John Malcolm said on Sunday that he mainted a "slight edge" going into the final day of deliberation.
Nobody really knows whether Trump is really still unsure of his pick, or whether he has made up his mind and wants to keep everyone guessing until the last minute. But no matter whom he chooses, odds are that the next Supreme Court justice will shift the court decisively to the right for years to come — a legacy that will long outlast the pageantry of the president's selection process.