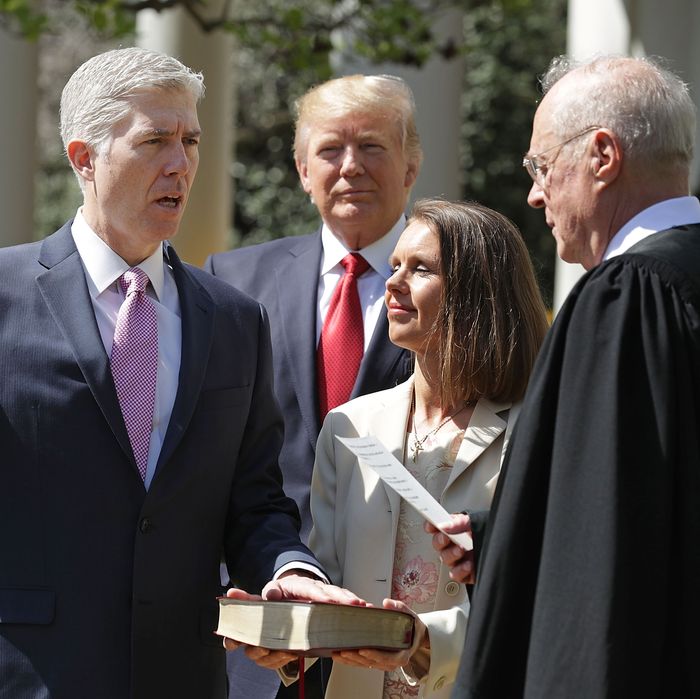 He's a Supreme Court justice, and he could play one on TV.
Photo: Chip Somodevilla/Getty Images
President Trump has made no secret of how important appearance is to his hiring process. Trump has often remarked that his nominees just look right for their respective roles, and he's fond of the phrase "central casting." When considering Mitt Romney for Secretary of State, he said he "looks the part of a top diplomat right out of 'central casting.'" In a speech to the National Governors Association he said of Vice President Mike Pence, "He's a real talent, a real guy. And he is central casting, do we agree? Central casting." He even used the phrase when referring to military leaders at a post-inauguration lunch, adding, "If I'm doing a movie, I'd pick you General, General Mattis."
Therefore, it's unsurprising to hear that as Republican officials consider which potential Supreme Court nominees will face an easier confirmation battle in the Senate, poring over their legal writings, Trump is thinking about more superficial matters.
"Beyond the qualifications, what really matters is, does this nominee fit a central casting image for a Supreme Court nominee, as well as his or her spouse," a Republican close to the White House told Politico. "That's a big deal. Do they fit the role?"
While nominating someone to replace retiring Justice Anthony Kennedy might be the most consequential pick of Trump's time in office, most of the the hard work was already done months ago by the Federalist Society. Since Trump is selecting from their list of 25 conservative justices, there's no risk of him picking a judge who's great-looking but ideologically horrifying to his base.
The Wall Street Journal reports that Trump's short list has been whittled even further, and is now focused on three U.S. appeals court judges: Brett Kavanaugh, Amy Coney Barrett, and Raymond Kethledge. The paper says a "central tension" in the process is whether to base the decision primarily on their work, or on their biography and personal chemistry with Trump.
Kavanaugh is seen as the frontrunner. He's a former Kennedy clerk with a long record of judicial rulings. One person also noted to Politico that the photo of him being sworn in to the United States Court of Appeals for the D.C. Circuit "looks all-American" — which seems like a not very subtle way of expressing why Amul Thapar, Mitch McConnell's favorite candidate and the only minority on Trump's list, didn't make the final cut.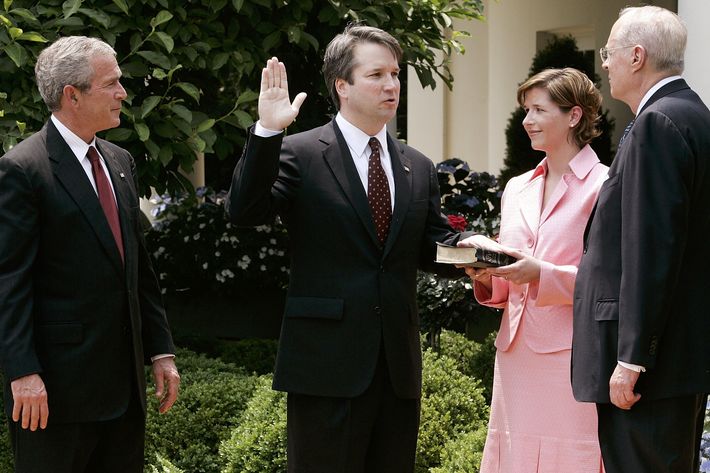 Trump reportedly asked Marie Louise Gorsuch to stand next to her husband during his nominating speech, and was delighted by the couple's appealing image. But there's a problem with the telegenic white people in the Kavanaugh picture: One of them is President George W. Bush. Kavanaugh's wife, Ashley, is close to the Bush family, having served as W.'s personal secretary for years. Brett Kavanaugh is also a protégé of Ken Starr; he wrote much of the graphic report on Bill Clinton's relationship with Monica Lewinsky and led the investigation into the death of Vince Foster. Trump's hatred of the Clintons might triumph over his hatred of the Bushes.
Barrett is a more controversial pick, as she's a clearer threat to Roe v. Wade, but that might make her more appealing to Trump. The Catholic judge had a previous run-in with Dianne Feinstein, the Senate Judiciary Committee's ranking Democrat, who remarked during her confirmation hearing that "the dogma lives loudly within you, and that's of concern." Feinstein was accused of applying a religious test, and the incident could help fire up the base.
As the Washington Post noted she's also "young (46), good on her feet, telegenic, unmistakably conservative and, with seven children, has the kind of family you want sitting behind you during tense confirmation hearings." But that might not be good enough for Trump. A source tells Politico she performed poorly in her interview. Also, the president is said to be looking for someone with a degree from Harvard or Yale, and Barrett went to Rhodes College and Notre Dame Law School.
If personal chemistry with Trump winds up being the determining factor, the nomination could go to Kethledge, the dark horse pick. A source said Kethledge and Trump hit it off during their interview, and the president "loved" him. While he does not hail from the Ivy League, he went to the University of Michigan, one of the most well-respected public schools, for his undergraduate and law degrees.
While there is little publicly available commentary on the attractiveness of Kethledge and his family compared to the other contestants, he has other qualities that seem appealing to Trump: a Midwestern background, a passion for hunting and fishing, and a book on leadership co-authored with West Point graduate and veteran Michael Erwin. Here's a quote from an interview in which Kethledge describes how they came to write a book about the importance of solitude:
Maybe a month later, Mike and I were having beers in an Irish pub in Ann Arbor. He mentioned a speech that Bill Deresiewicz had given at West Point about solitude and leadership. I talked about my barn office in northern Michigan, in a forested area overlooking Lake Huron. I have no internet connection, the HVAC is a wood stove, and my workspace is a simple pine desk. I told Mike that I get an extra 20 IQ points from being in that office.
He was in the office when he learned he was on Trump's list of 25 potential Supreme Court nominees:
I was up in my barn office, actually working on a chapter for this book. The landline phone rang. It was my wife, calling from the gym, where she was on a treadmill. She said, "I just saw you on TV! You're on Trump's list!"




That was how I heard the news. It was distracting. I really had to get that chapter done in the short time I had up there. So I thanked my wife for letting me know, and went back to work. Fortunately my cellphone doesn't work up there.
That's exactly the kind of anecdote Trump would love to share at Monday's dramatic nomination ceremony.
Though, Steve Bannon claims the media has it all wrong. He suggests that Trump, the former reality-show and beauty pageant host, is making his Supreme Court picks based on a rigorous study of their judicial temperament, while the stodgy lawyers and politicians who previously occupied the Oval Office went mainly by personality.
"I think President Trump is conducting a search built on the principles he established during his first Supreme Court selection — written opinions and the thinking behind them matter most," the fired White House chief strategist told the Journal. "Past Republican presidents focused on biography and interviews."