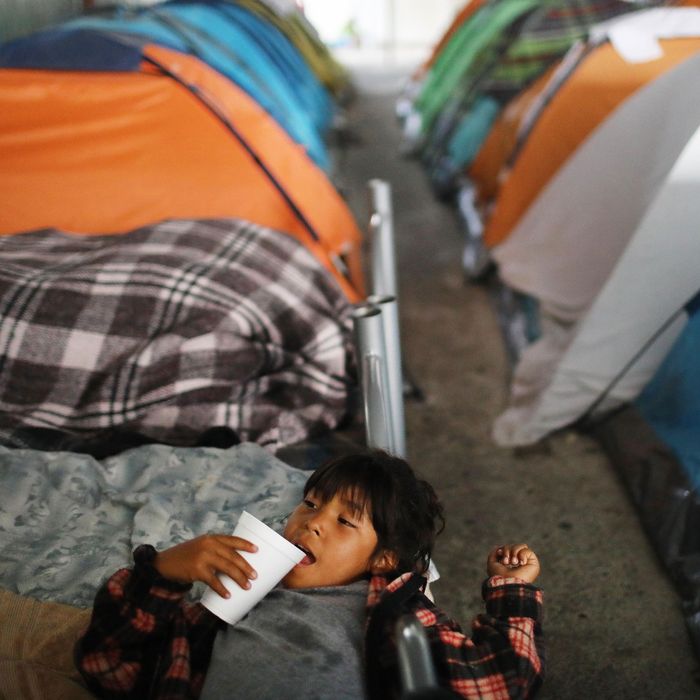 Despite suggestions that the administration is curtailing family separations and indefinite detention of kids, HHS is anticipating a lot more of both.
Photo: Mario Tama/Getty Images
For all the talk of the Trump administration hustling to end the separate incarceration of children separated from their parents at the border, planning documents from the agency responsible for housing these kids — the Department of Health and Human Service's Office of Refugee Resettlement — shows they anticipate a surge in new detentions, as Slate's Mark Joseph Stern reports:
Internal documents obtained by Slate show that ORR has modeled a scenario in which the Trump administration's border policies could require the detention of thousands more immigrant children …




There are currently about 11,800 children in ORR's care. Alex Azar, the secretary of the Department of Health and Human Services, has stated that somewhere between 2,000 and 3,000 of those children were separated from their parents at the border. The remaining children in ORR custody are unaccompanied minors — children who crossed the border without a parent or guardian.
It's unclear where the anticipated "surge" would come from — additional family separations in defiance of the courts and of public opinion, or a big increase in the arrival of unaccompanied minors — but the numbers are pretty big:
The ORR's budgeting exercise is premised on the possibility that the agency could need as many as 25,400 beds for immigrant minors by the end of the calendar year. The documents do not indicate that ORR officials have specific knowledge that family separations will increase but do show that the agency is preparing for the possibility.
The agency is taking the possibility seriously enough that it is figuring out how to pay for it, potentially reallocating money from other refugee resettlement accounts, and from the Ryan White HIV/AIDS Program.
And there's considerable evidence that ORR believes the administration will resume family separations of undocumented migrants, after a "pause" to comply with Trump's executive order that was widely understood as ending the separations altogether:
The budgeting exercise assumes that Trump's order created a 20-day pause on family separations and that referrals would increase after that 20-day period — that is, after July 10 — to 325 immigrant children per day for four weeks. If that estimate is correct, that means an additional 9,100 immigrant children would be detained and housed by the U.S. government in the four weeks beginning Tuesday.
Yes, the bureaucrats have to plan for every contingency, and the administration has clearly been improvising on this issue after it struck a chord in public opinion. But it looks like Team Trump may be playing with fire when it comes to incarcerating kids.