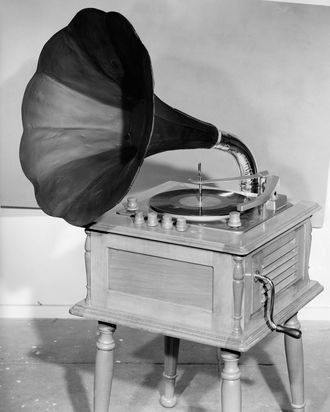 Photo: Camerique/ClassicStock/Getty Images
Every Sunday I meet my friends at Pier 11 on Wall Street in Manhattan to catch the 9:25 ferry to the beach. Well, it's every Sunday if you don't count the weekends where it is raining, or when some of us are out of town, or if we're all too hungover to even think about spending eight hours in the sun. But, in theory it's every Sunday. (Please consider this an open invitation.) Everybody has a job. Somebody picks up bagels. Another person a round of iced coffees. My job is being the person who wakes up early enough to get to the pier half an hour before departure to secure our spot in line. Someone else picks up ice for the cooler. It's almost a perfect system … except we don't have anybody in the group who brings a wireless speaker. So today I'm spending $9 on Amazon to change that.
It's not that none of us own speakers. I've got an Amazon Echo Dot — which requires being plugged into a wall — connected to a Bose SoundLink Mini II that I use daily in my apartment. But at $200, I'm not about to charge up my Bose, bring it to the beach and expose it to the elements and risk trashing it for good. (Just going to take a moment here to write a note to my friend who owns, and often brings, a fanny pack with a built-in speaker. Dude, I love that thing but it's just not loud enough to compete with the volume of a New York City beach in the summer. I want to be able to play our chosen Betty Who song louder than the Betty Who song selected by the folks on the next towel over at Jacob Riis.)
Amazon has a basic Bluetooth speaker on sale today for Prime customers that seems like it'll do everything I need at a price that won't hurt too much if I end up accidentally trashing it in the sand. It's on sale for 54 percent off and costs under $10. It comes in black. The reviews are good. "Small but great sound," one says. "Loud and long battery life," reads another. That's enough to convince me. See you Sunday. I'll be the one with the speaker.
Heads-up: If you buy stuff through our links, New York may earn a commission. That said, we don't recommend anything we wouldn't buy for ourselves.