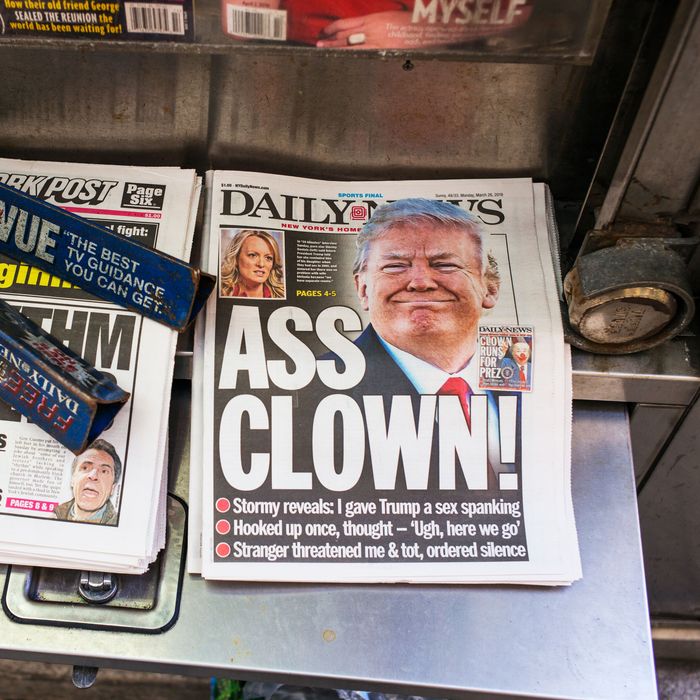 It was a bloodbath Monday at the
Daily News
.
Photo: Robert Nickelsberg/Getty Images
Tronc, the Chicago-based media company that purchased the New York Daily News for $1 last September, announced plans Monday to refocus the paper on "breaking news — especially in areas of crime, civil justice and public responsibility." And the first step it's taking to implement that change is firing half of the paper's editorial staff.
The staff learned of the firings at a meeting Monday morning that lasted less than a minute. Among the newly unemployed are editor-in-chief Jim Rich and managing editor Kristen Lee. Robert York will take over as EIC of the new version of the Daily News. York comes from Allentown, Pennsylvania's The Morning Call, another Tronc-owned paper.
Monday's job cuts are the latest in a series of scythings at the Daily News, which was down to 85 newsroom staffers as of last November, the New York Post reported. The sports and photo desks are expected to bear the brunt of the most recent firings, the Post's Keith Kelly adds.
News of the layoffs began to trickle out last week, when the media newsletter Study Hall reported that Rich's name was removed from his office door while he was on vacation. The former editor, whose Twitter bio now reads, "Just a guy sitting at home watching journalism being choked into extinction," hinted at Monday morning's news in a tweet sent at 1:40 a.m.
In its statement, Tronc reassured the newly fired employees that even though they are now without jobs, they are still "highly valued."
"The decisions being announced today reflect the realities and the need to adapt an ever-changing media environment," the statement said. "They are not a reflection on the significant talent that is leaving today. Let there be no doubt these colleagues are highly valued and will be missed."
Both New York governor Andrew Cuomo and New York City mayor Bill de Blasio spoke out against the firings Monday. In a statement, Cuomo called on Tronc to "reconsider this drastic" move and asked the company to work with him to "avert this disaster." De Blasio, who acknowledged his disagreements with the Daily News, called on the company to sell the paper to "someone committed to local journalism and keeping reporters on the beat."