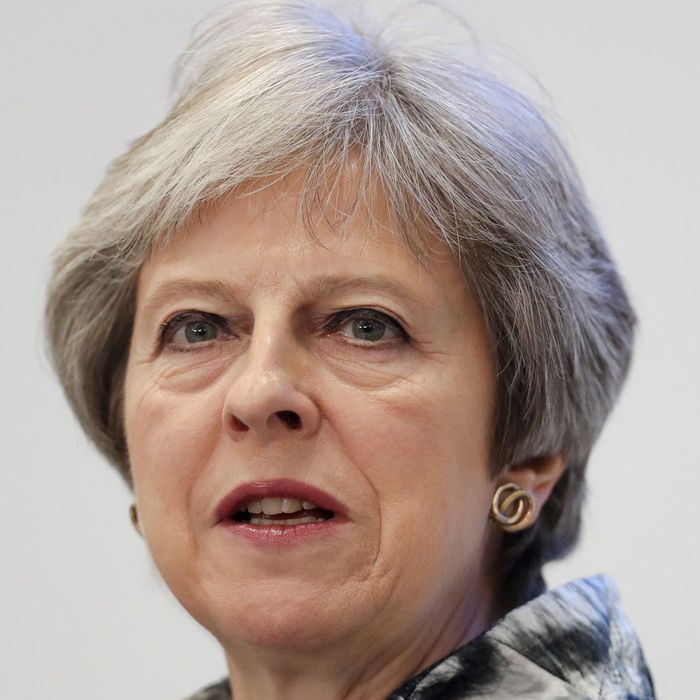 As she said in 2017, "let's get on with it."
Photo: Matt Cardy/Getty Images
As Theresa May's government continues to reel over its divisive plan to withdraw the U.K. from the European Union, the Prime Minister has rejected the idea of a second vote that would give the British people another say before the country officially hits the exits in March 2019.
May's dismissal of the idea was prompted by a Conservative, Justine Greening, who wrote in the Times of London that the "only solution is to take the final Brexit decision out of the hands of deadlocked politicians" with a second vote, which would give citizens three options: sticking with May's vision of a "Soft Brexit," remain in the E.U. after all, or leave the bloc with no deal. Greening, a former Education secretary who quit May's government in January, is the highest-profile Conservative to support a second vote, though she was not an advocate of leaving the E.U. in the first place.
The idea of a referendum sequel has long been popular among Remainers — those who voted to stay in the E.U. — who believe that the campaign around Brexit was infused with lies and propaganda, and that Leavers, their opponents, never had a coherent plan for withdrawal.
Since Prime Minister Theresa May revealed her incremental Brexit plan at a pivotal meeting with her Cabinet two weeks ago, she has faced open revolt among hard-line Brexiteers, who regard anything less than a clean break with the European Union as a betrayal of their original, revanchist vision. Eight officials have quit since that summit, including two very high-profile Leave advocates, David Davis and Boris Johnson.
It is an open question as to whether May can survive the continuing revolt. On Monday, she appeared ready to make one major concession to the hard-liners, allowing important changes to the government's customs agreement with the E.U. in the hopes of heading off continued dissension.
Amid all the upheaval, a second referendum still seems unlikely. But observers noted that May's Monday denial sounded familiar: Last year, she ruled out the possibility of a general election before quickly changing her mind.