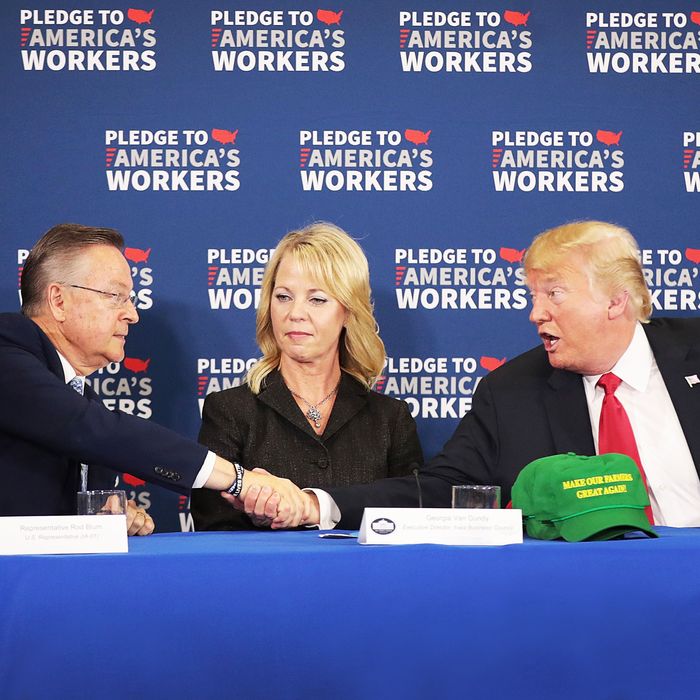 Rod Blum and Donald Trump on Thursday, in Iowa, with Georgia Van Gundy of the Iowa Business Council.
Photo: Scott Olson/Getty Images
If there's one congressional district where it might actually make sense to succumb to the very 2018 temptation to draw grand conclusions about what every last development means for The Age of Donald Trump, it may be Iowa's First.
The district's centrality to the national political discussion was clear as early as 2016, when industrial parts of the northeastern Iowa district — like the Dubuque area, which the president visited Thursday — abandoned their reliable Democratic hue to flip to Trump. Its position as a potent symbol was even more obvious when it became clear that the midterm race there would pit second-term Republican Rod Blum against Abby Finkenauer, an embodiment of multiple national trends working in Democrats' favor: a 29-year-old local legislator with her own student loans and a union emphasis reminiscent of Conor Lamb's. The race is a toss-up according to the Cook Political Report, making Blum — a conservative former software-company exec who won his district from a Democrat in 2014, in a faint precursor to another right-wing businessman's surprise win there two years later — one of the most vulnerable lawmakers in the country. But now, with the arrival of a massive midwestern backlash to Trump's tariffs, the district's national resonance is blaringly obvious.
Trump's visit functions, in part, as a rescue mission for Blum, a national Republican operative working on the race acknowledged to me. Highlighting a new round of funding for flood protection in Cedar Rapids, which was devastated in 2008, "helps Blum demonstrate exactly what he's doing."
But the depth and urgency of the GOP's potential problems in districts like this one become clear when you consider that Mike Pence was in Iowa's First just two weeks ago. It's exceedingly rare for both a president and vice-president to feel the need to visit a district in such close succession, so far out from Election Day. While Iowans are often hesitant to ditch incumbents — as Republicans are quick to point out — the area is hardly traditional red territory. Trump was the first Republican presidential nominee to take Dubuque County since Dwight Eisenhower, and while GOP grandees in the area have been hoping this is a permanent switch, some local Democrats believe it was actually more of an anti–Hillary Clinton blip: There was a notable dip in youth turnout and a jump in third-party candidates' share of the vote. Trump won more votes than Mitt Romney did in the area four years earlier, but Clinton won far fewer than Barack Obama did.
Accordingly, Finkenauer's campaign has leaned hard into the kind of gritty, bootstraps message about standing with blue-collar workers that Democrats think they can use to beat Trump across the Midwest. In one online ad (titled "Tough"), she walks through what looks like an abandoned warehouse before the camera cuts to a closeup of a welder — soon revealed to be her father — wringing sweat out of his belt, all over a rock beat. Trump's visit comes at a precarious time for his relationship with midwestern states he'll need to keep in the GOP column in order to maintain power over the next two years, let alone the next six. A new set of NBC News polls this week showed his approval rating dipping below 40 percent in Wisconsin, Minnesota, and Michigan.
The question many Republicans there are asking themselves now is whether they can stop the bleeding before the backlash to Trump's tariff-heavy trade war proves overwhelming. Iowa industry is hurting across the state: The biggest employer in Iowa County (in the Second Congressional District) is Whirlpool, which experienced its worst stock dip in over 30 years this week. Yet it's farmers — often considered the backbone of Iowa's economy — who have taken some of the hardest hits. Soybean prices have plunged, as have those of corn and pork. Blum's constituents have noticed. "Some of these rural communities are starting to wonder, 'Where's all the benefit [we were promised] coming from?' They voted for Trump, and now futures markets are down. They're really starting to feel it," said Bret Nilles, the Democratic Party chair in Linn County, in the First District.
Even Republican senator Chuck Grassley has had sterner words than usual for Trump in recent days, as the administration looks to remedy the farmers' plight with a new targeted aid package. "I don't fault the President for trying to get a better deal for Americans, but it's not fair to expect farmers to bear the brunt of retaliation for the entire country in the meantime. I've had several White House meetings with President Trump to express my concerns in strong terms," he said in a statement this week. "The President's announcement of billions of dollars in aid that will be made available to struggling farmers later this year is encouraging for the short term. What farmers in Iowa and throughout rural America need in the long term are markets and opportunity, not government handouts."
There are few states that loom larger for Trump than Iowa, which helped propel him toward both the Republican nomination and then the presidency. And if he's in pain in the state's industrial northeast near Dubuque, the area so closely associated with his national rise, that hurt likely doesn't stop at the district's border. With progressives eager to take advantage, the day after Trump leaves town, Democrats' 2020 carnival is touching down. Montana governor Steve Bullock, a potential presidential contender, will visit to raise money for the state House's Democrats, an official familiar with the plan told New York.
Trump "had a ton of counties in the district" — that is, Blum's district — that flipped from Obama. And they know the importance of that," said Sam Roecker, a Democratic strategist in the state. "They know that they have a vulnerability here, whether it's in this cycle or it's down the road, looking at reelection."