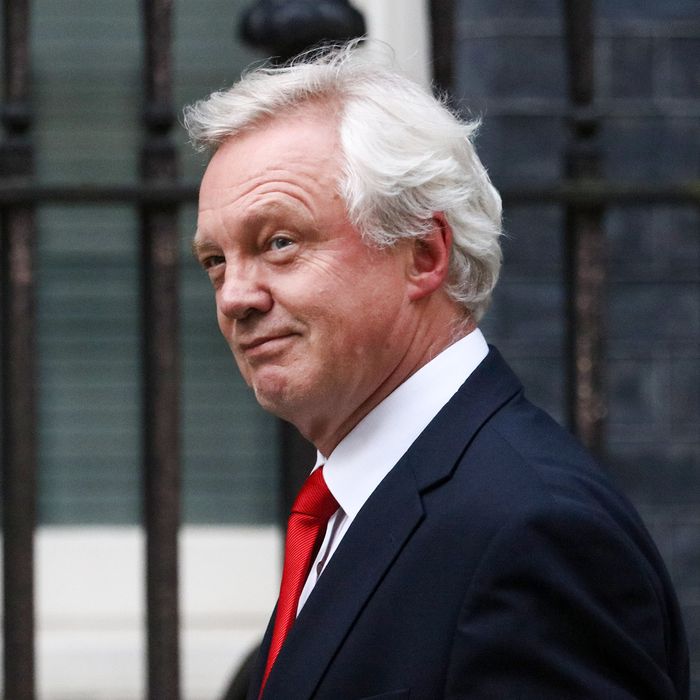 David Davis on his way to be named Brexit chief at 10 Downing Street on July 13, 2016.
Photo: Bloomberg/Bloomberg via Getty Images
David Davis, the most senior British official handling the negotiations over the U.K's exit from the European Union, resigned late on Sunday over disagreements with Prime Minister Theresa May. Following Davis's resignation his deputy, Steve Baker, and another Brexit minister, Suella Braverman, also resigned, threatening to destabilize May's government.
The resignations came after May's Cabinet formally endorsed her plan for a "U.K.-E.U. free trade area" on Friday. The proposal, which was worked out during a 12-hour meeting at Chequers, the prime minister's country residence, would keep the U.K. and E.U. in a free-trade zone for good and have Britain maintain E.U. regulatory and customs rules for manufacturing and agricultural products. Many Conservatives were outraged by this plan for a "soft Brexit," saying it would keep the country tied to the E.U.
"A very soft Brexit means that we haven't left, we are simply a rule-taker," said Conservative MP Jacob Rees-Mogg.
In his resignation letter, Davis said he believes May's plan will "make the supposed control by Parliament illusory rather than real," as the "'common rule book policy' hands control of large swathes of our economy to the EU and is certainly not returning control of our laws in any real sense."
He added that Brexit "is a complex area of judgement and it is possible that you are right and I am wrong" (a sentiment not likely to appear in any U.S. official's resignation letter), but he feels the job requires an "enthusiastic believer in your approach, not merely a reluctant conscript."
May said she's sorry that David chose to leave "when we have already made so much progress towards delivering a smooth and successful Brexit," adding that on Friday, "we as the Cabinet agreed a comprehensive and detailed proposal which provides a precise, responsible, and credible basis for progressing our negotiations towards a new relationship between the U.K. and the E.U. after we leave in March."
Britons voted 52 to 48 percent to leave the E.U. in a June 2016 referendum, and the plan is to exit on March 29, 2019. Pro-Brexit lawmakers, who have accused their opponents of ignoring the will of the people, praised the departing officials for making a stand against "Brexit in name only."
"Fantastic news," tweeted Andrea Jenkyns, a Conservative MP. "Well done David Davis for having the principal and guts to resign. I take my hat off to you. We need to make sure this is now a game changer for #Brexit."
May's office said Davis's replacement would be named on Monday, but it's possible there will be more resignations, raising the chances that the prime minister will face a no-confidence vote. Opposition leader Jeremy Corbyn highlighted what a blow the resignations are to May, as did Scottish First Minister Nicola Sturgeon:
On Monday morning backbencher Andrea Jenkyns called for the prime minister to be replaced. "Theresa May's premiership is over," she told BBC Radio 4. "The time has come that we need a Brexiteer prime minister."
May nearly lost control of the government last summer when she called a snap election in an effort to consolidate her power. The plan backfired spectacularly, and her government only maintained a slight majority thanks to support from the right-wing Northern Irish Democratic Union Party. If May loses a vote of no confidence, there could be another general election.
This turmoil comes at a particularly awkward time for May. She is preparing for President Trump's first visit to the U.K. on July 13 (complete with Trump baby blimp) and the death of a woman sickened by the same nerve agent that poisoned a former Russian spy in the U.K. threatens to worsen tensions with Moscow.