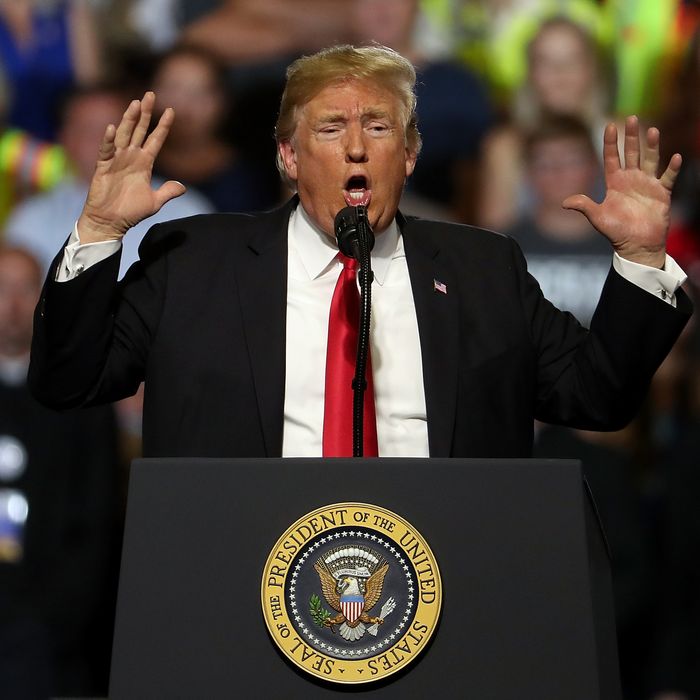 Shock me, shock me, shock me with that unpresidential behavior.
Photo: Justin Sullivan/Getty Images
In a move that was, like so much of his rhetoric, both disturbing and completely unsurprising, on Thursday night President Trump mocked the #MeToo movement, revived his "Pocahontas" insult against Senator Elizabeth Warren, and imagined throwing a DNA test at her and challenging her to prove she's Native American.
It was quite the mix of racism and sexism, but Trump has attacked the senator's "Indian" heritage on numerous occasions. He also started going after the #MeToo movement months ago, and earlier in the day he said he believes "100 percent" his pal Representative Jim Jordan's insistence that he did not turn a blind eye to the sexual abuse of student athletes. And, he just hired Bill Shine, the former Fox News co-president who lost his job over his handling of the network's sexual harassment scandals, as White House communications director. Plus, the president himself has been accused of sexual misconduct by at least 19 women.
Warren quickly fired back, highlighting the Trump administration's failure to reunite the migrant families it separated at the border.
The New York Times' Maggie Haberman suggested the remark shows Trump's strategy is still to frighten his opponents with his willingness to go after anything and anyone:
If that's Trump's aim he might want to change his delivery. At the same Montana rally, which was ostensibly about boosting Republican Matt Rosendale's bid to unseat Democratic Senator Jon Tester, Trump said Representative Maxine Waters has an IQ "somewhere in the mid-60s," attacked Senator John McCain's vote against destroying Obamacare, criticized President George H.W. Bush's campaign slogan, called members of the media "bad people" days after a mass shooting in a newsroom, declared he would have made the "clown" who climbed the Statue of Liberty in protest jump, and said of the Russian president, "Putin's fine."
At some point the bullying turns into a wall of noise.