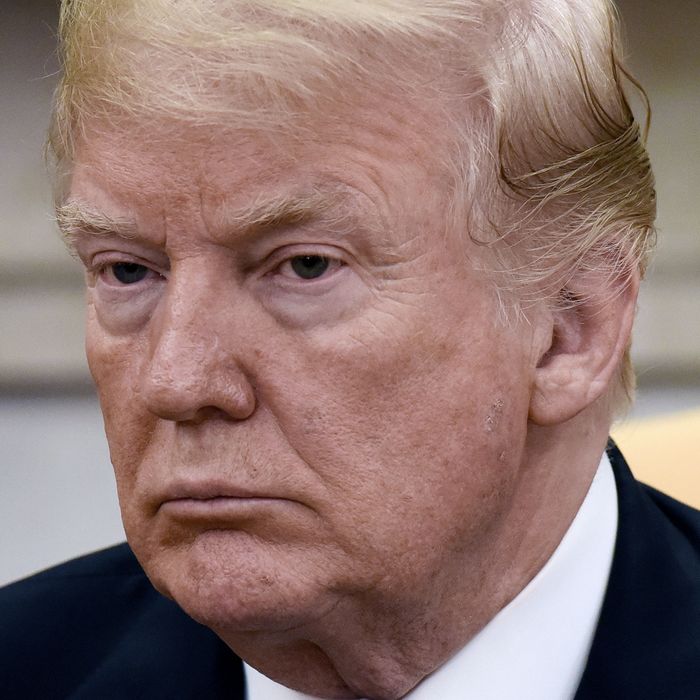 Trump doesn't respect the Fed's independence, and doesn't like the higher interest rates he used to demand.
Photo: Olivier Douliery - Pool/Getty Images
If there is one big-time bipartisan no-no for presidents, it's failing to respect the independence of certain key institutions, among them the monetary policy giants of the Federal Reserve Board. Sure, non-presidents can and often do grouse about the Fed. And before he ran for president, Donald J. Trump complained all the time that interest rates had been set too low, as Bloomberg noted when he encouraged continuity by appointing Jerome Powell to be Janet Yellin's successor as Fed chairman:
Before winning the White House, Trump had publicly complained for years that the Fed was too loose with the U.S. money supply. Trump was a critic of Fed policy under Yellen's predecessor at the Fed, Ben Bernanke, protesting his moves to keep interest rates low and prop up the economy after the financial crisis just before Obama took office.




"The Fed's reckless monetary policies will cause problems in the years to come," Trump tweeted in 2011. "The Fed has to be reined in or we will soon be Greece," referring to the European nation's debt crisis that forced bailouts by euro-zone countries and the International Monetary Fund.




Trump persisted with his criticism, tweeting in 2012: "The Audacity of @BarackObama – the Federal Reserve purchased 61% of all debt issued by Treasury in 2011. Killing our children's future."
He went back and forth on this subject during the 2016 presidential campaign. In May he called himself a "low-interest rate person" but by September that had all changed:
[H]e told CNBC that Yellen should be "ashamed" of the low-interest-rate policy that Trump himself endorsed so fully in May. "She is obviously political, and she's doing what Obama wants her to do," he said. Once again, Trump made the claim that there was a secret Obama-Yellen pact to keep rates low, rooted in their nefarious desire to prevent an economic crisis.
As president, of course, he loves to boast about growth indicators and stock market values, and so perceives Fed policies predictably aimed at keeping the economy on an even keel as subversive. Being who he is, he could not keep this thought to himself, as CNBC reports, even though that's traditionally what presidents do when it comes to the Fed:
In a stinging and historically rare criticism, President Donald Trump expressed frustration with the Federal Reserve and said the central bank could disrupt the economic recovery …




Fed officials, including Chairman Jerome Powell, have raised interest rates twice this year and have pointed to two more before the end of 2018.




Trump, in an interview with CNBC, said he does not approve, even though he said he "put a very good man in" at the Fed in Powell.

"I'm not thrilled," he told CNBC's Joe Kernen in an interview to air in full Friday at 6 a.m. ET on "Squawk Box." "Because we go up and every time you go up they want to raise rates again. I don't really — I am not happy about it. But at the same time I'm letting them do what they feel is best."
Totally aside from the fact that he's not supposed to say that sort of thing, Trump's ambivalent expressions about interest rates over time, but also sometimes (as today), within the same breath, are highly disruptive to markets for whom monetary policy is extremely important. But he doesn't seem to care about that:
"Now I'm just saying the same thing that I would have said as a private citizen," he said. "So somebody would say, 'Oh, maybe you shouldn't say that as president.' I couldn't care less what they say, because my views haven't changed."
They have changed, of course, and it's alarming that the president doesn't understand his wandering opinions on this sensitive topic matter more than they did when he was a mere real estate mogul and reality-show host.