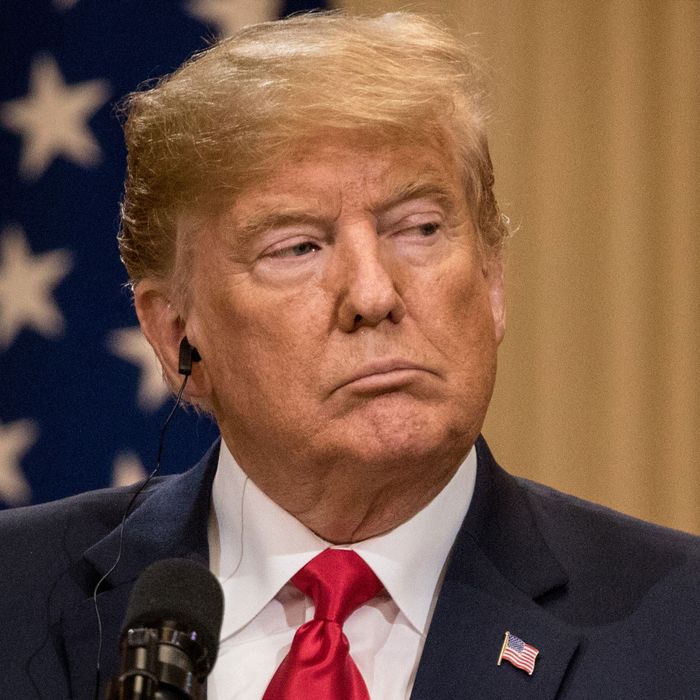 Killing it.
Photo: Chris McGrath/Getty Images
A day after an anti-diplomatic performance almost everyone agreed was an unmitigated disaster, President Trump approvingly cited one of the few people who disagreed with that assessment, then acknowledged that his press conference with Vladimir Putin had not exactly gone over well.
Trump earned some of the worst reviews of his presidency on Monday with his deferential appearance at a press conference with Putin in Helsinki, during which he credulously accepted Putin's denial of hacking the 2016 elections, siding with the Russian autocrat over U.S. intelligence agencies. Many stalwart defenders of the president — Newt Gingrich, the Drudge Report, even Fox & Friends — had to admit that it was not their hero's finest moment.
But there were some notable exceptions. Senator Paul said in an interview that Trump "did a good thing" by meeting with Putin, and, echoing Trump's protestations over the last year, said the president had undergone an "onslaught of partisan investigations." That was enough to earn him a presidential endorsement.
All three members of Fox News' prime-time lineup — Tucker Carlson, Laura Ingraham, and Sean Hannity — also went to bat for Trump on Monday night, giving the president a little more wiggle room to cherry-pick from favorable responses to his "Russia first" policies amid the continuing onslaught of criticism.