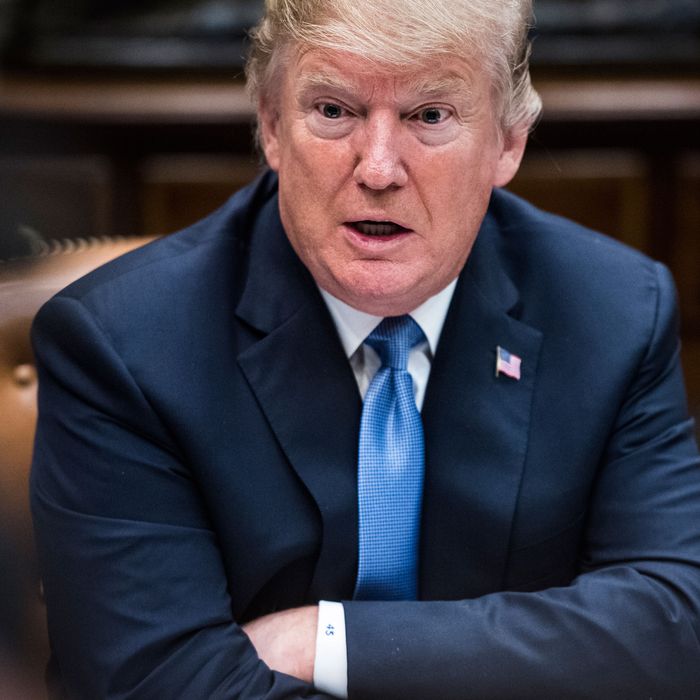 Roy Cohn would never have pulled this move.
Photo: Jabin Botsford/The Washington Post/Getty Images
On Saturday morning, President Trump shifted his laserlike Twitter focus from NFL national anthem protests to his erstwhile lawyer/fixer Michael Cohen, who is becoming an increasingly sharp thorn in his side.
On Friday, the New York Times was the first to report that Cohen secretly recorded a brief conversation two months before the 2016 election in which he and Trump discussed the possibility of paying off Karen McDougal, an ex-Playboy who says she had a yearlong affair with Trump beginning in 2006, in order to avoid embarrassing revelations in the press. The Trump administration had previously denied knowing anything about such a payment.
The tape was recovered when the FBI raided Cohen's office in April as part of an investigation into bank fraud and campaign finance violations, an action that President "law and order" Trump has repeatedly characterized as a break-in, even though it was a perfectly standard execution of a search warrant.
The president's complaint about being recorded is also likely immaterial, since New York is a "one-party consent" state, meaning that only one member of a conversation must consent to a recording to clear the legal threshold.
After initially pledging to stand firm behind the president, Cohen has more recently signaled his willingness to cooperate with prosecutors, an alarming prospect for the Trump administration. After the initial raid in April, presidential advisers said that the Cohen probe presents a larger threat to the administration than the Russia investigation.
CNN has reported that the FBI is in possession of more Cohen tapes that could include more damaging revelations for Trump — all the more reason for the president to go on offense against his former confidant.
As for Trump's "favorite president" line, it could be interpreted in more ways than one.