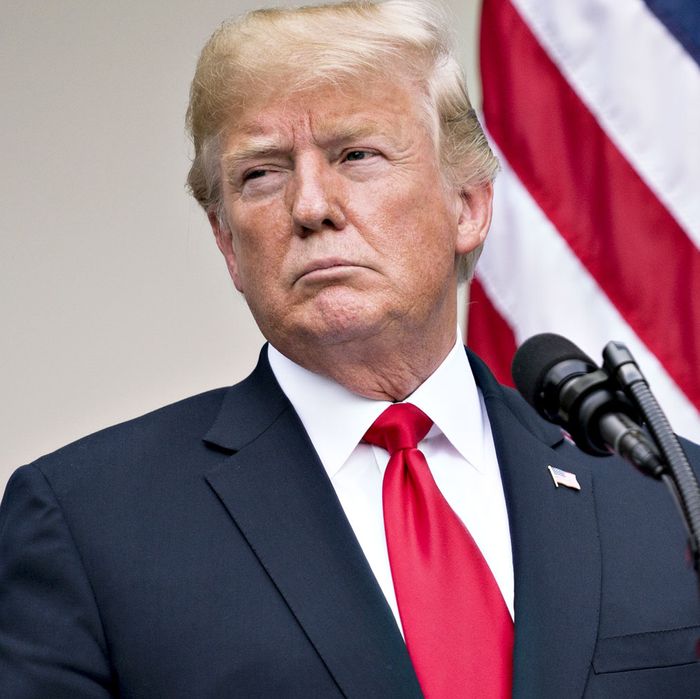 President Trump.
Photo: Andrew Harrer/Bloomberg via Getty Images
Last night, the Trump administration announced with maximum fanfare that the trade war with the European Union was over. "This was a big day for free and fair trade!," tweeted an excited President Trump. For all the hype and surprisingly credulous press the announcement attracted, it amounts to little more than a face-saving truce. If you're looking for any details as to how this will work, too bad, they don't exist.
The trade "deal" follows the script of the ballyhooed North Korean nuclear "deal" from last month. The cycle begins with bellicose Trumpian threats designed to increase American leverage. This leads to negotiations, which produce an impossibly ambitious and thoroughly vague "solution" that allows Trump to boast that he has averted a crisis of his own making.
In North Korea's case, the "agreement" involves a nonverifiable promise to denuclearize the Korean peninsula at some future date. The trade "deal" is a promise to eliminate tariffs between the United States and the European Union. In theory, it would be possible to eliminate all tariffs between the E.U. and the U.S., but the process would take many years to complete — the European Union has 28 member states, all of which have internal political dynamics and constituent business interests to navigate.
In the meantime, the practical meaning of Trump's deal is that both sides will halt the cycle of retaliatory tariffs. Despite Trump's belief that his methods had produced valuable leverage for his own position, the spat had imposed acute pain on his own constituents — especially farmers, who have suffered dire costs from retaliatory tariffs. The president had taken to pleading with his supporters to stop complaining and let him sue for peace:
He was begging his allies to stop complaining about the tariffs. Like a dog!
Trump's campaign adviser Stephen Moore told the Washington Post yesterday, "The one thing I do know about Trump is that he's not going to back down." Characteristically, the one thing Moore knows turned out to be completely false.
But it is easy to see how Trump plans to turn this shambolic retreat into another famous victory. Begin with the assumption that the European Union has been screwing the Great Companies of the United States with one-sided and very, very unfair tariffs for decades. (This is not true.) Then proceed to the assumption that Trump has produced a deal to eliminate all these tariffs. (Completely unrealistic.) By stacking the two fantasies atop each other, you arrive at a reality in which Trump has made a Great Deal to make Americans win again.