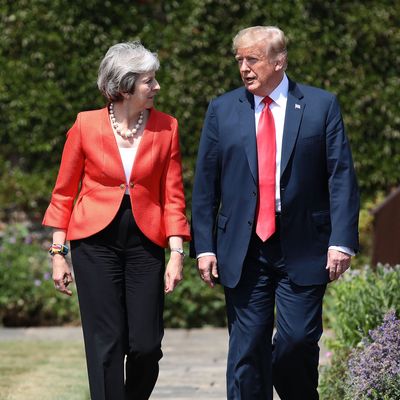 Theresa May and Donald Trump.
Photo: Jack Taylor/Getty Images
Donald Trump insisted Friday morning that he did not criticize British prime minister Theresa May in an interview with The Sun, even though the tabloid recorded his comments, which were very obviously critical of May.
"I didn't criticize the prime minister. I have a lot of respect for the prime minister," Trump said Friday.
But he did criticize her, telling The Sun that May made a mistake by not listening to his advice on how to cut a deal for Brexit. And then he took the criticism a step further, saying Boris Johnson, one of May's biggest political rivals, would make a "great prime minister."
Trump also labeled The Sun's interview "fake news," and then, in a curious move for someone who insists that he didn't criticize May, he said that he had apologized to her for the interview. "She's a total professional," Trump said. "I said, 'I want to apologize because I said such good things about you,' And she said, 'Don't worry, it's only the press.' I thought that was very professional."