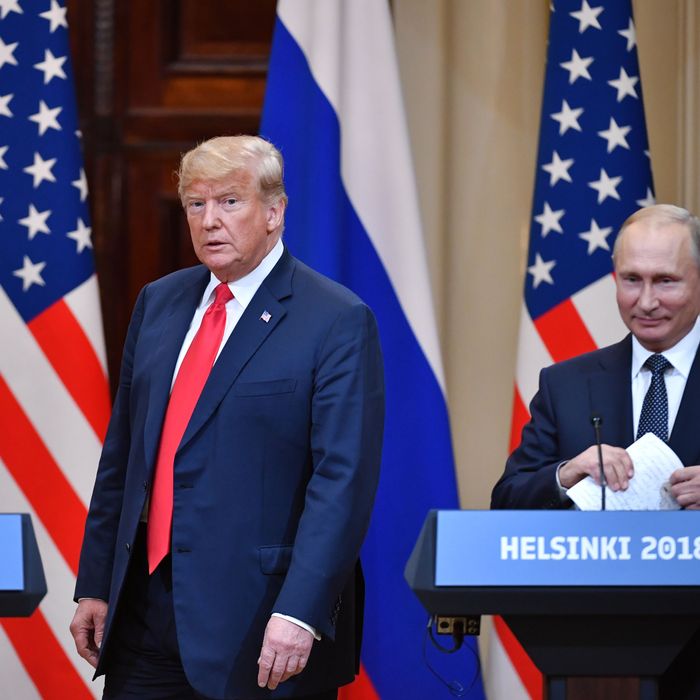 Monday's press conference featured Trump's favorite strongman (Russian President Vladimir Putin) and Trump's greatest adversary (himself).
Photo: Yari Kadobnov/AFP/Getty Images
President Trump was angry that a reporter was allowed to ask him a difficult question during his disastrous press conference with Russian president Vladimir Putin on Monday, according to sources who spoke with the Washington Post. Trump reportedly complained to his staff about having to face AP reporter Jonathan Lemire's query about whether he still believed Putin's denials about Russia's election interference, and whether he would call out and condemn the interference in front of the Russian leader. Trump wanted to know why Lemire had been called on instead of a reporter who would ask him an easier question.
"Who do you believe?," Lemire had asked, referring to Trump's well- established disbelief in the U.S. intelligence community's ironclad conclusions about Russia's efforts to subvert America's democracy. "Would you now," the reporter continued, "with the whole world watching, tell President Putin — would you denounce what happened in 2016, and would you warn him to never do it again?"
Trump's answer was a slow-motion political trainwreck for the ages:
The week only got worse for the president, his staff, and his party after that, though it's still not clear Trump understands why — just as it's not clear how he could have possibly expected to avoid such an inevitable line of questioning in Helsinki, something his beleaguered aides surely tried to prepare him for ahead of time. (They told him afterward that any journalist would have asked the same question at that point in the press conference.) Over the next few days, Trump attempted a stunningly terrible walk back, called the media the "real enemy" of the American people, and came up with some creative ways to extend the whole mess.
Trump's anger over having to answer Lemire's question — not his failure in attempting to do so — lingered on. Speaking with CNBC, Trump later characterized (and distorted) the exchange as "fools from the media saying, 'Why didn't you stand there, look him in the face, walk over to him, and start shouting at him?' I said, 'Are these people crazy? I want to make a deal.' "
After a week that arguably illustrates Trump's inability to handle reality better than any other during his fantastical presidency, he should be careful who he calls "crazy."