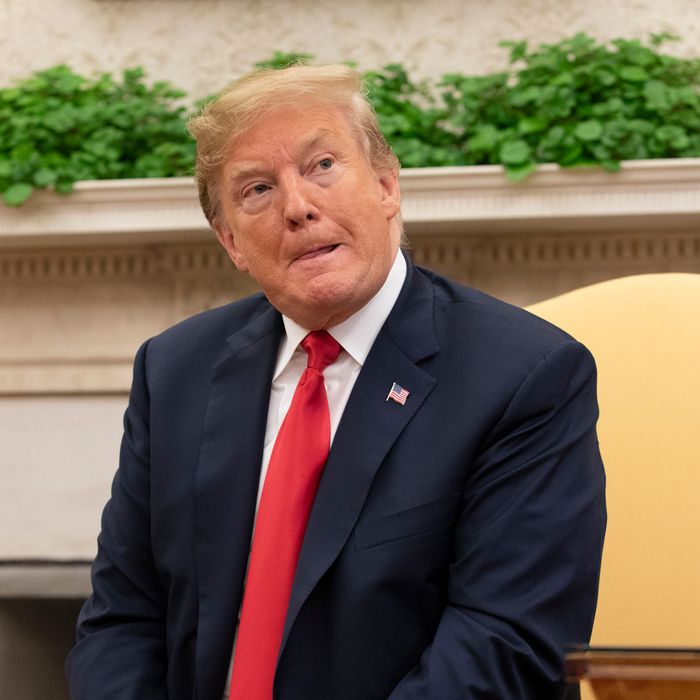 The president listening to a reporter's question during an event at the White House in June.
Photo: Alex Edelman/Pool/Getty Images
President Trump has repeatedly sought official retaliation against journalists over how they question him, according to current and former administration sources who spoke with the Washington Post. In addition to his frequent public and private complaints that he is mistreated by the press, Trump has asked his aides to ban or revoke the credentials of reporters who offend him. And apparently nothing chafes the president more than when reporters call out questions during events. Such journalists are "the worst," Trump has reportedly told aides, in addition to asking that the behavior be punished.
Staff members had pushed back against or seemingly ignored the requests for retaliation — at least until this past week — when CNN's Kaitlan Collins was banned from an open media event at the White House in retaliation for the way she had tried to question the president earlier in the day. The questions Collins had tried to get Trump to answer were also, coincidentally, ones he probably didn't want to hear or talk about. One was whether the president felt betrayed by his former lawyer and fixer, Michael Cohen, now that Cohen appears to have flipped on Trump, and the other was about his controversial White House invitation to Vladimir Putin, the Russian president and alleged supervillain of the American electoral system.
A week ago, the Post also reported that Trump had been furious that unsympathetic journalists were allowed to ask him questions during his disastrous joint press conference with Putin following their one-on-one summit in Helsinki. At the next summit with Putin, those reporters might be excluded.
The White House ban on CNN's Collins was carried out by Trump's new deputy chief of staff, disgraced former Fox News executive Bill Shine, and press secretary Sarah Huckabee Sanders. The move revealed what the Post calls a "fresh willingness" to follow Trump's anti-media orders in the White House, though it's not clear how far that will go. Sanders was reportedly one of the staffers, along with former communications director and Trump whisperer Hope Hicks, who tried to talk the president out of his revenge tactics. Their argument was that he should ignore questions he didn't like rather than draw unwanted attention to them by going after the questioner, and should also avoid doing anything that would cause the White House press corps to unite against him — or anything that would make the offending reporter more famous.
CNN's Jim Acosta and American Urban Radio Networks' April Ryan (who is also a CNN contributor) are the two reporters who Trump has complained about most frequently, per the Post, but it sounds like there are several ways to piss off the president:
Trump's irritation has flared the most when he has been peppered with questions from reporters on formal occasions, such as Rose Garden announcements, or during what are known as press pool sprays, when a handful of journalists representing the White House press corps covers meetings or events in the Oval Office, Cabinet Room or Roosevelt Room. He also has taken issue with the questions posed to Sanders and other officials at White House press briefings.
As his aides undoubtedly predicted, the backlash to Wednesday's ban on Collins was swift from the White House press corps — including Fox News. Responding to the complaints on Thursday, longtime Trump aide Kellyanne Conway insisted that Trump "obviously isn't afraid of questions," but just objected to "the shouting and the pouting long after the press corps has been politely asked to leave the room." For her part, Sanders responded on Friday by arguing, in part, that Trump was "the most accessible president in modern history."
What's also historic is Trump's almost pathological hostility to the press, which dates back to his presidential campaign, when staff didn't just blacklist reporters that Trump found offensive, but entire media organizations. The bans were rescinded in the final few months of the campaign, but they may be back now if Trump is going to get what he wants again. After all, if you are a White House aide, you might prefer to deal with the blowback of banning a journalist than deal with the aftermath of whatever Trump actually says when he tries to answer their question.