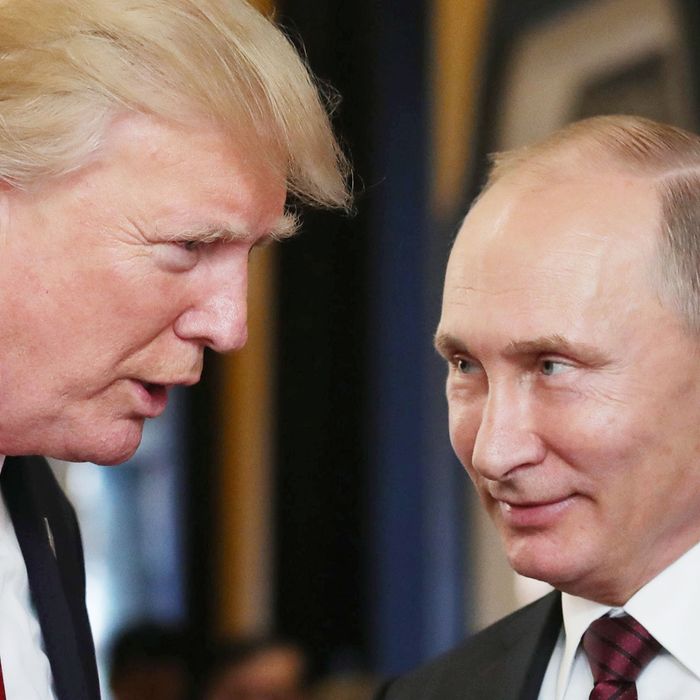 "You really get me, you know that?"
Photo: Mikhail Klimentyev/AFP/Getty Images
Why, exactly, is President Trump sitting down with Vladimir Putin in Helsinki on Monday? Is it actually a summit, or more of a meeting? Will Trump recognize Putin's annexation of Crimea, or merely fawn over him in post-conversation interviews? Nobody knows the answer to these questions. But we can predict with certainty that one subject is unlikely to dominate the strangely private têtê-à-têtê: the whole Russia-hacking-the-2016-election thing.
In an interview with CBS — during which he also called the European Union a "foe" — words that are undoubtedly music to Putin's years — Trump was asked whether he had considered asking his buddy to extradite the 12 Russians accused on Friday by Special Counsel Robert Mueller of hacking Democratic National Committee and Hillary Clinton campaign emails. His answer was not exactly reassuring.
JEFF GLOR: The Russians who were indicted, would you ask Putin to- to send them here?




PRESIDENT TRUMP: Well I might. I hadn't thought of that. But I certainly, I'll be asking about it. But again, this was during the Obama administration. They were doing whatever it was during the Obama administration. And I heard that they were trying, or people were trying, to hack into the RNC too. The Republican National Committee. But we had much better defenses. I've been told that by a number of people. We had much better defenses, so they couldn't. I think the DNC should be ashamed of themselves for allowing themselves to be hacked. They had bad defenses and they were able to be hacked. But I heard they were trying to hack the Republicans too. But, and this may be wrong, but they had much stronger defenses.
It's no surprise that Trump would immediately pivot to blaming the victims of Putin's attacks rather than reckon with the violations themselves. He did, after all, encourage Russia to carry out the hacks in the first place. Since then, he has consistently questioned whether the country was really to blame, contradicting the judgment of 17 U.S. intelligence agencies. And, as he has continued to assail traditional American allies for (supposedly) treating the U.S. unfairly, he has consistently given Putin the benefit of the doubt, insisting that he believes his unconvincing denials of election meddling.
All this has understandably fueled speculation that something very strange is going on between Trump and Putin, something beyond the president's reflexive admiration for autocrats.
But in a series of Twitter posts on Sunday, Trump — or more likely Dan Scavino Jr., judging by the coherence of the prose — took issue with the notion that Trump was being too soft on Russia, inventing a scenario in which the liberal media is failing to appreciate the president's tough posture (and throwing in some authoritarian-flavored slander against journalists for good measure):
In reality, the president is completely at odds with his own administration on Russia. While Trump continues to cozy up to Putin, the federal agencies under him have adopted a traditionally hawkish Republican attitude.
On the matter of pressing Putin on his involvement in the 2016 hack, though, Trump does have one logical argument on his side: Even if he was insistent that Putin extradite the hackers, there is no chance he'd meet with success — and maybe it would be foolish to even try.
Still, for a president who views life as an endless, alpha-male battle for domination, his failure to even pretend to hold Putin to account for a brazen attack on the United States remains very striking, and very weird.