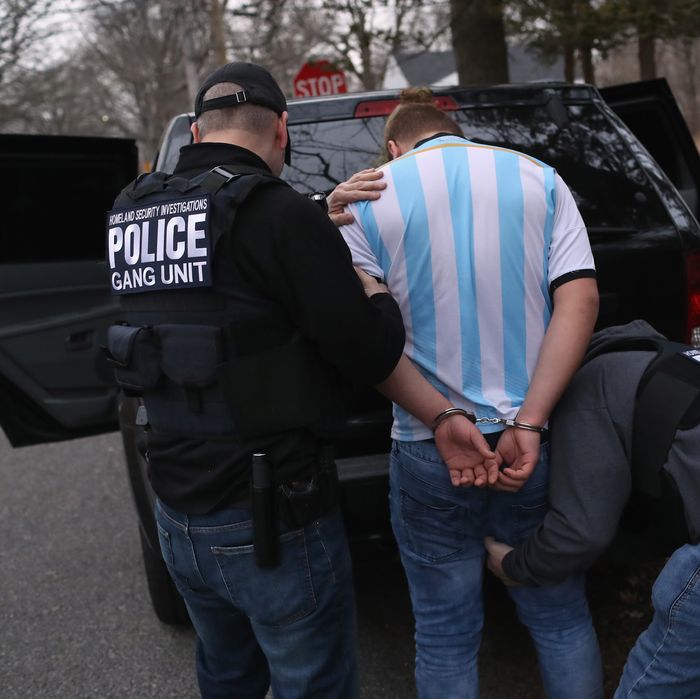 ICE agents frisk a suspected MS-13 gang member in Brentwood, New York, after arresting him on March 29, 2018.
Photo: John Moore/Getty Images
In the face of nationwide protests against his immigration policies over the weekend, President Trump deployed his standard countermove: making false claims about his war on MS-13. "I have watched ICE liberate towns from the grasp of MS-13 & clean out the toughest of situations," Trump tweeted. "They are great!"
Trump's vivid assertions about the Salvadoran-American gang have kept fact-checkers busy. He blamed the Obama administration for having "allowed bad MS-13 gangs to form in cities across U.S." and then claimed that within a matter of months his administration had deported half of the gang's members. His administration described MS-13 as one of the most brutal gangs driving the international drug trade, and this spring Trump credited ICE with driving the gang's members out of the country "by the thousands."
MS-13 uses particularly vicious tactics, but otherwise almost nothing in preceding paragraph is true. To be sure, the gang is terrorizing a handful of towns — located in areas like Long Island, New York; Montgomery County, Maryland; Fairfax County, Virginia — largely targeting their own immigrant communities. But the gang became a national focus primarily because Trump promoted reports of grisly murders as proof that America desperately needs his harsh immigration policies.
Trump seizes on every opportunity to tout his campaign against the "animals" in MS-13 (which may actually make recruiting easier by building up their reputation). However, he's yet to outline a comprehensive or innovative strategy for tackling gang violence. The primary focus is obviously deportations, coupled with other policies to keep migrants from entering the country. Other efforts mostly extend crime-fighting efforts started under previous administrations. Here's what Trump is actually doing to take on MS-13, beyond verbal attacks.
Contrary to Trump's rhetoric, MS-13 is not proof that droves of illegal immigrants are bringing rampant crime and violence to the U.S. The gang was formed in Los Angeles in the 1980s by refugees from the civil war in El Salvador. A push to deport the immigrant gang members in the mid-1990s helped grow the organization's leadership back in El Salvador; the gang spread to other areas like Honduras and Mexico, and back into the U.S.
Today there are about 10,000 MS-13 members across the U.S.; that's less than one percent of the 1.4 million gang members in the country, according to FBI figures. That estimate has held for a decade.
Trump has increased enforcement against gang activity, but there's evidence that his administration is exaggerating the effect his policies are having on MS-13. When asked to back up Trump's claim in June 2017 that his administration was removing "thousands" of MS-13 members from the streets, the White House pointed to the arrests of 1,378 people in a six-week nationwide gang operation that spring, Homeland Security's largest gang operation ever. Only 104 of those arrests were associated with MS-13. Another crackdown later in 2017 netted 214 MS-13 arrests.
The administration also said Operation Community Shield, ICE's anti-gang initiative, had led to "more than 4,300 criminal arrests and nearly 3,000 civil immigration arrests of MS-13 leaders, members and associates." But that program started in 2005.
Later in the summer, ICE highlighted the effects of Trump's revival of a program that uses local law enforcement to help enforce federal immigration laws. Matt Allen, the agency assistant director for investigative programs, said ICE agents were regularly embedding with local law enforcement, and taking in suspected gang members for being undocumented even if they could not be arrested on criminal charges (simply being a gang member is not a crime).
"That kind of a posture is new," Allen said. "Going out and operating with a local gang unit, seeing what they see, and having our tool in their toolbox by having an ICE [agent] with them."
At the end of fiscal year 2017 (which runs from October 2016 to September 2017), ICE presented an impressive statistic: Arrests of MS-13 members shot up a whopping 83 percent compared to the previous year. But that still only amounted to 796 arrests of MS-13 "gang members and associates," up from 434 in fiscal year 2016.
Some immigration advocates questioned those numbers, saying that according to ICE's loose definition, someone can be classified as a gang member or associate by their tattoos, clothing, or even if they're spotted in a known gang hangout.
Bryan Johnson, a Long Island immigration lawyer, told the Washington Post that some teens he represents had been labeled gang members for having the area code for Honduras, which is considered an MS-13 symbol, on their backpack or being spotted in the presence of gang members on several occasions.
"It's like they suspended the U.S. Constitution for these kids," Johnson said. "Getting rid of MS-13 is important. But it's just as important to make sure that an innocent kid isn't sent back to Central America and killed."
Trump doesn't seem that concerned about what happens back in Central America (presumably, once the wall is up, it won't affect the U.S.). Attorney General Jeff Sessions ordered immigration officials to stop granting asylum to most victims of domestic abuse and gang violence, and Trump floated the idea of curbing aid to foreign countries every time one of their citizens crosses the border illegally. Salvadoran authorities are dreading the return of large numbers of MS-13 members, and some warn that the Trump administration might just be repeating the cycle that strengthened the gang in the first place.
Targeting the Street Gang Like It's a Drug Cartel
The U.S. government designated MS-13 as a "transnational criminal organization" in 2012 (despite Trump's claim that the Obama administration ignored the gang entirely). That allowed officials to target the group's financial operations more aggressively, though most analysts said it didn't really belong in the company of other groups with that designation, like the Yakuza in Japan and the Mexican cartel the Zetas. MS-13 consists of loosely organized "cliques" of alienated young men that engage mainly in protection and extortion rackets, prostitution rings, and low-level drug sales, with no major presence in the international drug-trafficking market.
Nevertheless, in October 2017 Attorney General Jeff Sessions announced that he was making MS-13 a "priority" for the Justice Department's Organized Crime Drug Enforcement Task Forces, which were established in 1982 as part of the war on drugs.
"Drugs are killing more Americans than ever before, in large part thanks to powerful cartels and international gangs and deadly new synthetic opioids like fentanyl," he told the International Association of Chiefs of Police, concluding, "perhaps the most brutal of these gangs is MS-13."
Sessions explained that he'd authorized the task force to "use every lawful tool to investigate MS-13 — and not just our drug laws, but everything from RICO racketeering to our tax laws to our firearms laws."
Days later he announced the revival of a George W. Bush administration crime-fighting strategy, Project Safe Neighborhoods. It involves sending another 40 federal prosecutors to districts experiencing a spike in crime, and directing federal prosecutors to collaborate with local law enforcement on reducing violent crime.
Critics noted Sessions's approach dovetailed with the Trump administration's overall "tough on crime" agenda and efforts to paint all migrants as dangerous to justify harsh immigration policies.
More Funding for Combatting Gang Activity
Though it's barely drawn any attention, and Sessions had vowed to move ahead even without additional funding, last month Trump signed into law a bill creating a $50 million grant program for the Project Safe Neighborhoods effort. Congress had phased out Safe Neighborhood block grants in 2012.
The new law sets aside 30 percent of funding for regional gang task forces. Months earlier, the Justice Department awarded Long Island's Suffolk County $500,000 for its fight with MS-13 through the same program. The money is primarily going toward increased enforcement, but a small portion was set aside for gang-violence-prevention programs aimed at school-age children.
Some experts say that by focusing mainly on getting tough on immigration and crime, the Trump administration is furthering its own broader agenda, but showing a lack of understanding about what fuels MS-13. In May 2017, then–Suffolk County police commissioner Timothy Sini, who is now district attorney, told Congress that to effectively combat MS-13 "we have to create an environment in which undocumented individuals feel comfortable coming to law enforcement with information about crimes" — not one where they have a heightened fear of deportation. He also called for greater investment in "community-based programs to reduce gang recruitment and gang enlistment."
"If we do not provide the structure for these young people," he said, "MS-13 will."
But Patrick Young, a lawyer at an immigrant-aid organization called Carecen, told The New Yorker that investing in young immigrant populations, who are the primary target of MS-13's recruiting and crimes, doesn't get the federal government's attention.
"If you say, 'We should help these kids,' nothing would happen," he said. "If you say, 'We want to invest in gang prevention,' everyone would say, 'Sure.'"