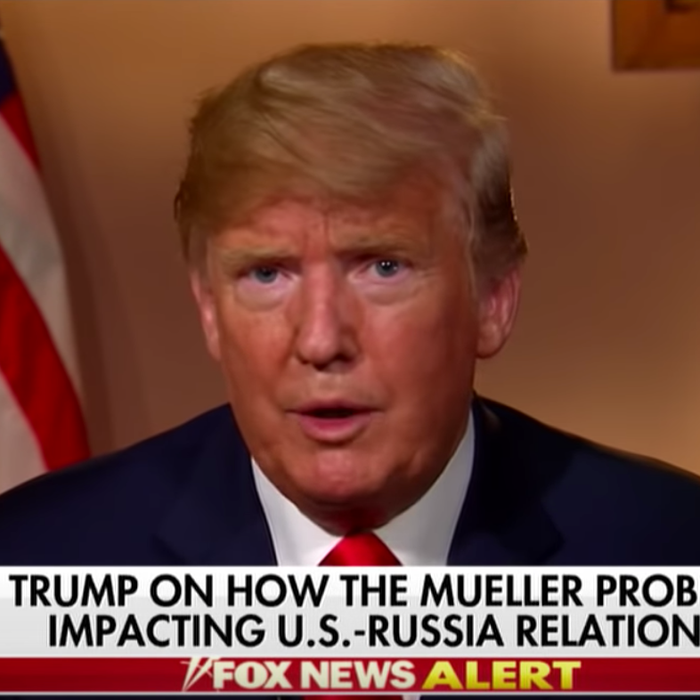 Several Fox News anchors discovered on Monday that their love of Donald Trump has a limit: the president standing next to Vladimir Putin and declaring that when it comes to Russia's 2016 election meddling, he trusts the dictator's denial over the conclusions of the U.S. intelligence community.
Fox News anchor Neil Cavuto, appearing on Fox Business Network, said he was appalled that Trump was letting Putin "get away with it, not even offering a mild, a mild criticism." He continued, "That's what made his performance disgusting. Only way I feel. Not a right or left thing to me. It is wrong."
Other personalities at the network echoed Cavuto, including Fox & Friends Weekend host Abby Huntsman, who tweeted, "No negotiation is worth throwing your own people and country under the bus."
These stirrings of revolution at Trump's favorite network were quickly squashed during Fox News prime time. On Fox Business, Lou Dobbs declared that Trump "handled himself perfectly," and dubbed the bipartisan criticism of the meeting "stupid stuff." Tucker Carlson and Nation contributing editor Stephen Cohen dismissed the liberal outrage as "mob violence."
Sean Hannity kicked off his show by explaining that everything you might have heard about Trump today was the opposite of the truth:
But don't just take Hannity's word for it; he also guided Trump through a recap of the comments he made during his press conference with Putin, proving that Trump is every bit as deferential to the Russian president when he isn't in his presence as when he is.
The Hannity interview, which was conducted immediately after Trump and Putin spoke to reporters, began and ended with Trump attacking the Russia probe, leaving the impression that it was one of the primary topics of his conversation with Putin.
Hannity started by complimenting Trump for going on a tirade about Hillary Clinton's email servers during the presser. Trump responded by suggesting that we now know he and his team didn't collude with Russia, and Moscow has no compromising information on him, simply because Putin said so:
TRUMP: Well, first of all [Putin] said there was no collusion whatsoever. I guess he said as strongly as you can say it They have no information on Trump.




It was an interesting statement, too. You know many years ago when I was there, what was it 13, 14, a long time ago, he said there were many, many businesspeople there. In all fairness, I was a very successful businessman, but I was one of a lot of people. And one thing you know, if they had it, it would have been out. 




HANNITY: He said it was nonsense.




TRUMP: He said it's nonsense, that's right. And he also said there's absolutely no collusion, which you know and everybody that watches your show knows, and I think most of the country knows, and Tucker [Carlson] standing right over there definitely knows because he gets it, he's one of the people that get it.
Trump lamented that reporters keep asking about the mounting evidence of Russian election interference rather than issues of substance. Then he mused, apropos of nothing, "I thought that President Putin was very, very strong."
Toward the end of the interview, Trump attacked President Obama again for failing to stop the Russian election interference that Trump egged on. Trump even said FBI agent Peter Strzok had probably met with Obama to plot against him, but that was overshadowed by Trump repeatedly suggesting that Americans should blindly accept whatever Putin has to say.
Even Hannity got in on it, saying of the kompromat Putin is said to have on Trump, "by the way, Putin confirmed today he didn't have such information on you, apparently."
Trump marveled that Putin was very familiar with Robert Mueller's probe, and remarked that Putin has "been saying it makes him angry when he sees it" and was "incensed even talking about it." (The implication being that Putin is very upset that he's been wrongly accused.) Trump seemed very impressed with Putin's offer to have Russian operatives start working on the Mueller probe.
For his final question, Hannity asked Trump to discuss what he thinks U.S. relations with North Korea and Russia will look like in a year. Trump claimed U.S.-Russian relations had just made a dramatic turnaround, as they were "really bad five hours ago." Then he pivoted back to the "phony witch hunt deal" that's driving the two nations apart.
Then he listed several people charged with crimes in the Russia probe, one of whom has pleaded guilty.
TRUMP: You have to understand, you take a look and you look at all of these people, I mean some were hackers, you know, they're not … 14 people, and they have 12 people. These aren't 12 people involved in the campaign then you had many other people some told like… you look at Flynn, it's a shame, but the FBI didn't think it was lying. With Paul Manafort who really is a nice man you look at what's going on with him. It's like Al Capone!




HANNITY: 2005 tax case.




TRUMP: On a case that I guess is very old. It's just a sad thing. It's a very sad thing for our country to see this
That may not sound like a great way to defend Manafort, but apparently we're adding Al Capone to the list of murderous criminals who now deserve Americans' trust and sympathy.