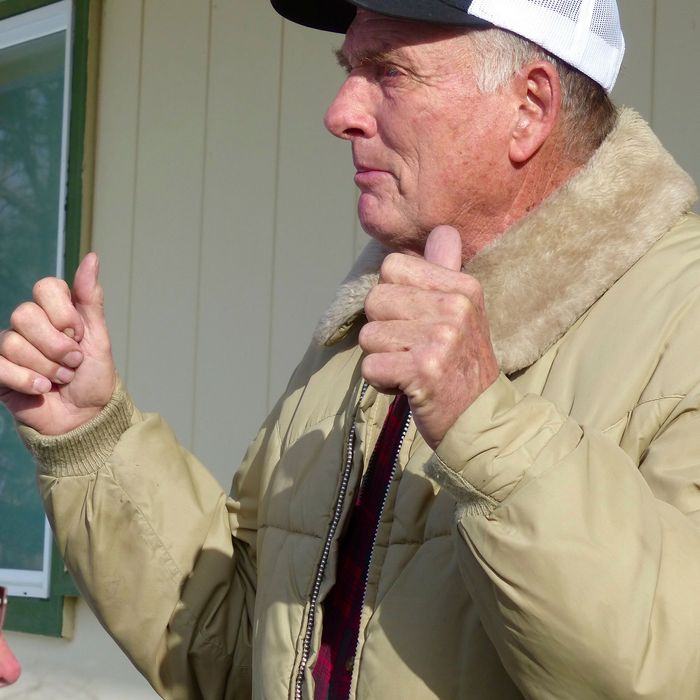 It was a happy Tuesday for Dwight Hammond Jr.
Photo: Les Zaitz/AP
As President Trump headed to Brussels for a tense NATO summit, his administration announced that it would pardon two ranchers who were convicted of setting fires on federal lands, in the latest sign that the president's version of "law and order" includes an out clause for right-wing folk heroes.
Dwight Hammond Jr. and his son Steven Hammond, 49, were accused of setting two major fires, the first in 2001 and the second in 2006. The Hammonds said they set the fires to protect their land from invasive species; prosecutors later said it was to conceal eveidence of illegal deer hunting. They were convicted by an Oregon jury in 2012, but the judge who oversaw their case agreed with the Hammonds that the mandatory five-year sentences for arson on federal land was overly punitive, and the two served short sentences instead.
But President Obama's Department of Justice appealed, and in 2015, the Ninth Circuit Court of Appeals ruled in the administration's favor. The Hammonds surrendered to federal authorities, and were sent back to prison to serve out their five-year terms. In a statement after that ruling, the Department of Justice cited evidence from the first trial, in which "Jurors were told that Steven Hammond handed out 'Strike Anywhere' matches with instructions that they be lit and dropped on the ground because they were going to 'light up the whole country on fire.'"
The second imprisonment caused a local backlash. Most notably, members of another anti-government family, the Bundys, cited the Hammonds as their inspiration for facing down what they called an oppressive government when they occupied a national wildlife refuge in Oregon, setting up a weeks-long standoff that became front-page news in 2016.
In its statement, the Trump administration said that the Obama administration appeal was "unjust," and that "the Hammonds are devoted family men, respected contributors to their local community, and have widespread support from their neighbors, local law enforcement, and farmers and ranchers across the West."
The pardons don't carry huge practical import; the Hammonds had already served most of their sentences. But they send a message that Trump also delivered with his previous pardon of lawless Arizona sheriff Joe Arpaio: which is that when a certain kind of (white) frontier-justice renegade decides to defy the federal government, it's the offender, not the government, who gets the benefit of the doubt.
This is a very distinct and selective version of the "law and order" he campaigned on, but one that holds enormous appeal to the only people President Trump really cares about: his base.