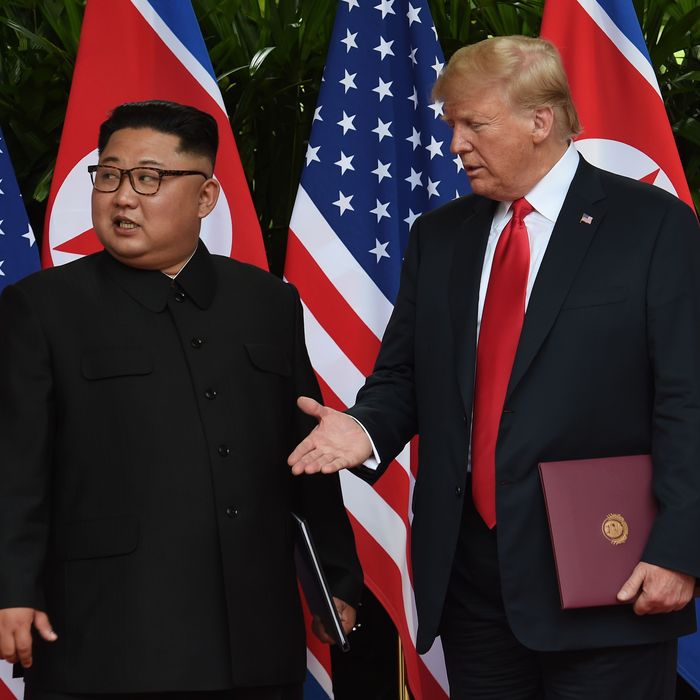 So far, the only thing Trump has gotten from Kim Jong-un is his autograph on a meaningless joint-statement.
Photo: Anthony Wallace/AFP/Getty Images
A new report indicates that President Trump may yet realize that his face-to-face meeting with Kim Jong-un didn't amount to anything, and that's making things tense at the White House. Having successfully delivered a great buildup, some diplomatic drama, a trailer for capitalism, and wall-to-wall cable news coverage, Trump rode Air Force One away from last month's historic summit in Singapore with his gut feelings held high. The North Korean threat was over, according to the president and no one else, and thanks to his leadership, the entire crisis was "largely solved."
Unfortunately, those pesky politicians in Pyongyang, who no one but Trump trusted, may be ruining the president's high. Per the Washington Post, Trump seems to be learning, the hard way, that epic peace deals with foreign leaders work a lot better when those deals actually exist before celebrating or trying to implement them. North Korea has been blowing the U.S. off since the summit, leaving denuclearization negotiations at a standstill, and the impatient Trump has been fuming at aides about it.
U.S. negotiators' attempts to hammer out an actual agreement have met significant resistance from North Korean officials, just as every North Korea expert in the world predicted they would. Despite rumors that Secretary of State Mike Pompeo might give Kim Jong-un a CD of Elton John's "Rocket Man," the North Koreans haven't destroyed the missile testing facility Trump said they would, and have "canceled follow-up meetings, demanded more money, and failed to maintain basic communications, even as the once-isolated regime's engagements with China and South Korea flourish," according to U.S. diplomats who spoke with the Post.
On top of all that, per an official U.S. intelligence assessment which was inexplicably leaked to multiple news organizations by numerous American officials, the North Koreans have been simultaneously plotting to deceive the Trump administration about the size, scale, and continuation of the nuclear weapons program Trump assured us they would be abandoning. (Some analysts have even wondered if U.S. intel officials publicized the assessment because they were worried that the Trump administration was going to let itself get played.)
Trump has been regularly praising his summit performance, championing the event as recently as last week. And really, for anyone who is currently alive and prefers to avoid a nuclear holocaust, entertaining Trump's delusions of diplomatic grandeur has served as a perfectly palatable alternative. But the president has also reportedly been "captivated by the nuclear talks, asking staffers for daily updates on the status of the negotiations." The responses have been less appealing, however, and Trump was already very annoyed that the media hasn't been celebrating the vague, substance-free joint-statement he got Kim to sign in Singapore (though Fox News' coverage of the summit somehow won his praise). Another sore spot is how it's been more than a month since Trump's announced that North Korea had returned the remains of 200 American soldiers who were killed in the Korean War — yet that still hasn't happened.
Secretary of State Mike Pompeo has been leading U.S. efforts to retroactively get something from North Korea in exchange for the propaganda victory Trump gave Kim in Singapore. Pompeo has been trying to sort out the remains issue, which is what Trump wants to solve in lieu of the stalled denuclearization talks. But Kim chose potatoes over Pompeo when the two had planned to meet in North Korea earlier this month. And the entire U.S. delegation was stood up at another meeting in the demilitarized zone, where they were left waiting for three hours before North Korea called the talks off.
So the Trump administration's post-summit relationship with North Korea — now that the cameras are off and Kim Jong-un has probably demanded enormous murals of him and Trump for the sides of the country's hidden nuclear weapons bunkers — is going about as well as everyone who has ever read a chapter of a book about North Korea expected it to.
"I'm in no real rush," Trump insisted last week, referring to North Korea's denuclearization and a process the regime recently referred to as "cancerous."
"I mean whatever it takes, it takes," he added. Russia's Trump-approved president, Vladimir Putin, is going to "help" too, Trump announced last week after the Helsinki summit. What help Russia might offer, and at what cost, remains unclear.
Mike Pompeo, meanwhile, is stuck in an ever-precarious position. As the face of the Trump administration's long-shot effort to work out a real-life agreement with Pyongyang, he could catch Trump's ire if and when the post-summit talks collapse and the president finds out that he was cast as the loser on North Korea's nuclear reality show. But Pompeo can avoid all that, so long as he can negotiate the successful denuclearization of the world's most intractable rogue regime, or if that fails, figure out how to protect the president (and country) from the consequences of Trump's alternate reality. What could go wrong?
The problem with that outcome is that Trump getting smacked with a rude and public wake-up call is a scenario North Korea experts have been predicting and worrying about for months. When Trump's bubble finally bursts, they fear, the president will look for someone to blame other than himself, and may decide he holds Pyongyang responsible. Trump has already responded to Kim Jong-un's previous provocations with escalations and bluster, even bragging to the world about the superlative size and power of his nuclear button. For a well armed leader who worships fame, spectacle, and dominance as much as Trump, to be exposed on the world stage as a weak fabulist and strongman poseur could provoke a much more dangerous reaction than innuendo.