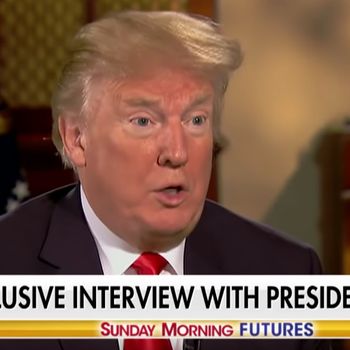 Just happy to be thought of.
Photo: Screencap/Fox News
President Trump suggested that Russia's efforts to "sow discord or chaos" in the U.S. have been successful during a Fox News interview which aired Sunday. Asked by Sunday Morning Futures host Maria Bartiromo whether he had any comments on, or will support, his congressional allies' efforts to investigate alleged anti-Trump bias within the FBI and Russia investigation, the president claimed he was trying to stay above the fray — before proceeding to attack the Russia investigation.
Insisting that he didn't like the rancor over the issue because it was "bad for the country," Trump joked that, "You know, if Russia is, in fact, looking to sow discord or chaos, they've got to be saying, 'This is the greatest thing we've ever done.' "
He then repeated his claim that he had nothing to do with Russia during or after the 2016 election, calling the investigation a "disgrace."
The president was obviously not intentionally referring to the discord caused in the U.S. by his election and the subsequent actions of him and his administration, but rather the discord which has resulted from the Russia investigation.
Of course, from the Kremlin's perspective, that's undoubtedly a distinction without much of a difference. However successful Russia's meddling efforts ultimately were, their goal was nonetheless realized, whether Trump is capable of accepting that or not. During a recent panel discussion about the U.S. on Russian state television, a presenter even joked that he didn't understand why the U.S. was so interested in discussing cybersecurity with Russia when the only "trouble" Russian cyberwarfare has caused for the U.S. was the election of Trump.
Trump has complained about the Russia investigation in this manner before, as a way of suggesting his critics are the ones now aiding Russia by investigating him. He has also dubiously claimed that it was Democrats who colluded with Russia during the election instead of him — though it's also not clear if he actually believes Russia meddled at all, since he once again implied on Thursday that he believed the Kremlin's denials (over the unequivocal conclusions of the U.S. intelligence community).
Trump told reporters aboard Air Force One on Friday that he would "mention" the election meddling to Russian president Vladimir Putin at their one-on-one summit in Finland later this month. Trump's national security adviser, John Bolton, suggested on Sunday that the issue would come up as well, but also argued that Trump's summit with Putin would be a good way for the pair to get past the "political noise" caused by the Russia probe.
Explaining to Fox News Sunday host Chris Wallace that the summit would be "somewhat unstructured" so as to skip "the pressure of immediate deadlines or crises," Bolton said that he didn't think that Trump has conceded his leverage over the election meddling issue by accepting Russia's innocence on Twitter. Bolton also mostly dodged a question as to whether or not Trump believes Russia meddled, responding instead that Putin recently told him "there was no meddling in the 2016 election by the Russian state," so "it still raises the question," and that he thinks "the president will want to have a conversation about this and say we don't want to see meddling in the 2018 election."
Considering Trump's affinity for authoritarians and their "strong" methods, it's a near certainty that Trump will get along well with Putin at the summit, a presumption that is making America's European allies nervous. It's not clear what the president will agree to, or accidentally disclose, during the summit, but he may end up repeating Russian propaganda as he did the last time the leaders met. No one has any idea what Trump might do an effort to please Putin, but the Russian autocrat will undoubtedly have a well considered strategy for handling the impressionable Trump.