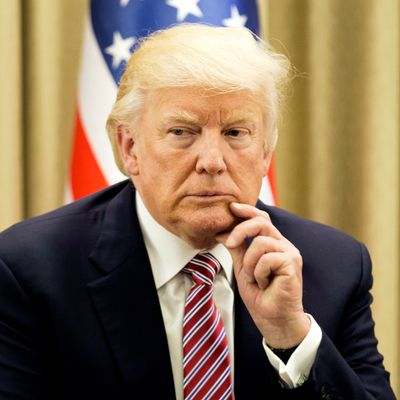 In Trump's defense, Putin's soul does look very trustworthy.
Photo: ATEF SAFADI/AFP/Getty Images
On the rare occasions when President Trump does something that's beyond the pale even for Republicans, he salvages the situation by issuing one contradiction after another, until Americans get tired and move on to some other crisis.
We're three days into the latest vortex of flip-flopping, which started when Trump was asked about Russia's alleged 2016 election meddling during his press conference with Vladimir Putin on Monday:
Even before Trump's plane landed in the U.S., he and his top aides realized they needed to do damage control. Thus on Tuesday, Trump said he has "full faith in our intelligence agencies" and attributed the controversy to his accidental flipping of the words "would" and "wouldn't."
It was a terrible excuse, but it might have been sufficient if Trump hadn't said "no" on Wednesday when a reporter asked if Russia is still targeting the country, as U.S. intelligence officials have concluded.
Few bought White House press secretary Sarah Huckabee Sanders's claim that Trump was saying "no" to answering more questions, so a few hours later, the president made yet another reversal. In an interview with CBS Evening News anchor Jeff Glor, Trump said that despite what we all saw on Monday, he was "very strong on the fact that we can't have meddling," when talking with Putin. This time, when asked if he trusts Putin or U.S. intelligence officials, he went with the Americans (though he declined to bad-mouth Putin).
TRUMP: I don't want to get into whether or not [Putin's] lying. I can only say that I do have confidence in our intelligence agencies as currently constituted. I think that Dan Coats is excellent, I think that Gina is excellent. I think we have excellent people in the agencies. And when they tell me something it means a lot.




GLOR: Coats says the threat is ongoing. Do you agree with that?




TRUMP: Well, I'd accept, I mean he's an expert. This is what he does. He's been doing a very good job. I have tremendous faith in Dan Coats. And if he says that, I would accept that. I will tell you, though, it better not be. It better not be.
Being continually asked to ignore what we witnessed a day earlier is exhausting and infuriating, but at least Trump knows how we feel; it seems that for the past 18 months, he's also been gaslighting himself.
We know top intelligence officials briefed Trump on January 6, 2017, shortly before his inauguration, about their conclusion that Russia tried to interfere in the U.S. election. On Wednesday night the New York Times shed more light on what Trump was told during that meeting. Apparently when Trump dismisses allegations that Russia targeted the U.S. election, he isn't just rejecting intelligence officials' conclusions about confusing Russian schemes and hackers with odd names; he was also shown evidence of Putin's personal involvement in the plot:
Two weeks before his inauguration, Donald J. Trump was shown highly classified intelligence indicating that President Vladimir V. Putin of Russia had personally ordered complex cyberattacks to sway the 2016 American election.




The evidence included texts and emails from Russian military officers and information gleaned from a top-secret source close to Mr. Putin, who had described to the C.I.A. how the Kremlin decided to execute its campaign of hacking and disinformation.
Intelligence officials described multiple streams of intelligence that led them to blame Russia, including findings by British, Dutch, and U.S. intelligence services, and several human sources who confirmed Putin's personal involvement:
That included one particularly valuable source, who was considered so sensitive that [CIA Director John] Brennan had declined to refer to it in any way in the Presidential Daily Brief during the final months of the Obama administration, as the Russia investigation intensified.




Instead, to keep the information from being shared widely, Mr. Brennan sent reports from the source to Mr. Obama and a small group of top national security aides in a separate, white envelope to assure its security.
While it seemed that Trump had been "grudgingly convinced" during the meeting, since then he's been working to discredit two of the intelligence officials who briefed him — Brennan and James Clapper, the former director of national intelligence. (And of course, he eventually fired FBI director James Comey.)
In Thursday's CBS interview, Trump tried to explain how he can have confidence in U.S. intelligence agencies currently, but reject their previous findings on Russian election interference:
Certainly I can't have any confidence in the past. But I can have a lot of confidence in the present and the future, because it's getting to be now where we're putting our people in.




But in the past, no, I have no confidence in a guy like Brennan. I think he's a total low-life. I have no confidence in Clapper. You know, Clapper wrote me a beautiful letter when I first went to office, and it was really nice. And then, all of a sudden, he's gone haywire because they got to him and they probably got him to say things that maybe he doesn't even mean.




But no, I certainly don't have confidence in past people. You look at what's happened. Take a look at all of the shenanigans that have gone on. Very hard to have confidence in that group.
Now we know that in addition to lacking confidence in "past people"'s intelligence analysis, Trump thinks they fabricated mounds of evidence. Or perhaps he accepts that the evidence he saw was real, but thinks that the fact we obtained it means Russia is innocent. Per the Times:
In July 2017, just after meeting Mr. Putin for the first time, Mr. Trump told a New York Times reporter that the Russian president had made a persuasive case that Moscow's cyberskills were so good that the government's hackers would never have been caught. Therefore, Mr. Trump recounted from his conversation with Mr. Putin, Russia must not have been responsible.
Trump can't accept the findings of "deep state" U.S. intelligence officials without some ironclad proof, but also believes that evidence of Russian election meddling only confirms that they were framed. It's pretty sound logic (if you believe whatever Putin says, for unclear reasons).