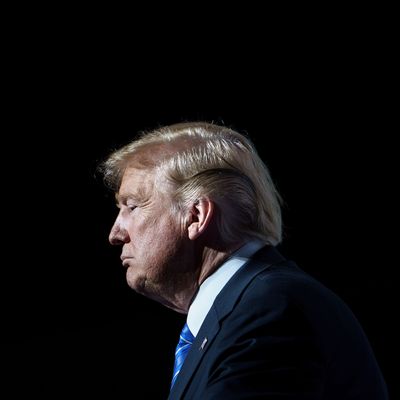 Tweeting through it.
Photo: Brendan Smialowski/AFP/Getty Images
President Trump ripped into his former personal lawyer Michael Cohen Friday morning and insisted that he had no prior knowledge of the pivotal June 2016 meeting at Trump Tower where his son Don Jr. met with Russians, after he was promised dirt on Hillary Clinton.
Cohen is prepared to tell Robert Mueller that Trump knew about the meeting, CNN reported Thursday, which would contradict Trump's repeated denials. Those denials have never been very believable though.
In his tweet, Trump suggested that Cohen is "trying to make up stories in order to get himself out of an unrelated jam (Taxi cabs maybe?)." That's no doubt a reference to the financial and legal troubles Cohen faces in relation to his time as a New York City taxi mogul. It also sounds a lot like a threat to disclose something that Cohen wouldn't want disclosed.
Trump also found a way to bring his favorite bogeyman, Hillary Clinton, into this story, suggesting that she and Bill Clinton set Cohen up with his new lawyer, Lanny Davis, who worked for Bill Clinton when he was president.