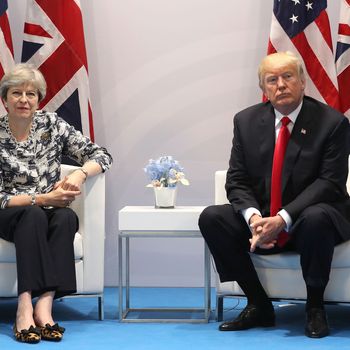 May and Trump.
Photo: Matt Cardy/Getty Images
Donald Trump kicked off his diplomatic visit to the United Kingdom Thursday by gifting his host a political nightmare. In an interview with the Sun, a British tabloid, the president announced that Theresa May's blueprint for a "soft Brexit" was a betrayal of British voters — one that, if implemented, "would probably end [Britain's] major trade relationship with the United States."
May's plan would commit the U.K. to coordinating many aspects of trade policy with the European Union leadership in Brussels — a gesture aimed at keeping Britain within the E.U.'s customs union (and thus, to save London's status as the financial capital of Europe, while preventing a broader series of economic calamities inherent to the U.K. losing privileged access to the common market).
Trump told the Sun that if May went through with such an agreement, he would cancel a previously planned bilateral trade deal between the United States and Britain because "if they do a deal like that, we would be dealing with the European Union."
"We have enough difficulty with the European Union," Trump explained. "No, if they do that I would say that that would probably end a major trade relationship with the United States."
The president went on to say that May's plan "was not the deal that was in the referendum. I have just been hearing this over the last three days. I know they have had a lot of resignations. So a lot of people don't like it."
Trump added that Boris Johnson, who forfeited his position as foreign secretary Monday — in protest of the "soft Brexit plan" — would make "a great prime minister."
These were the most undiplomatic remarks in Trump's interview (if not in the modern history of Anglo-American relations). But they still weren't the most offensive quotes that the president gave to the paper.
Here's a quick rundown of Trump's other, incendiary reflections:
Immigrants have robbed Europe of its great culture.
"I think what has happened to Europe is a shame. Allowing the immigration to take place in Europe is a shame. I think it changed the fabric of Europe and, unless you act very quickly, it's never going to be what it was and I don't mean that in a positive way. So I think allowing millions and millions of people to come into Europe is very, very sad. I think you are losing your culture. Look around. You go through certain areas that didn't exist ten or 15 years ago."
Sadiq Khan, the (Muslim) mayor of London, is responsible for terrorism in that city — because he allows immigrants to live there.
Per the Sun:
The Labour heavyweight has "done a very bad job on terrorism" by allowing so many migrants to come to the city, the President controversially argues.




…"Take a look at the terrorism that is taking place. Look at what is going on in London. I think he has done a very bad job on terrorism.




"I think he has done a bad job on crime, if you look, all of the horrible things going on there, with all of the crime that is being brought in."




… A source close to Mr Khan last night pointed out that the Home Office is in charge of immigration policy for London and the whole country and not those in City Hall.
By disrespecting Trump, Mayor Khan is disrespecting his own constituents — because Europeans live in the United States.
"I think he has not been hospitable to a government that is very important," Trump said. "Now he might not like the current President, but I represent the United States. I also represent a lot of people in Europe because a lot of people from Europe are in the United States."
The Washington Post is a lobbying firm whose only client is Jeff Bezos.
Asked about a report in The Washington Post that he thinks of Mrs May as "a bossy schoolteacher", Mr Trump said: "No, no, no, no. I never said anything bad about her.




"That is fake news. I think she is a nice person. I get along with her very nicely. The Washington Post is totally fake. They are just a lobbyist for Amazon."
Trump is more beloved than Abraham Lincoln.
"You know, a poll just came out that I am the most popular person in the history of the Republican Party — 92 percent. Beating Lincoln. I beat our Honest Abe."